EXCLUSIVE: Read it here first...
EXCLUSIVE!
Eva Longoria & Tony Parker Spend Day...Together!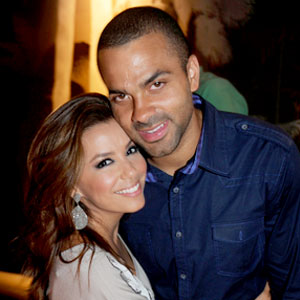 Seth Browarnik/startraksphoto.com
Could Eva Longoria and Tony Parker be reconciling?
We just spotted the recently split couple at the beach in Santa Monica.
Read on to find out what they were up to...
MORE: Tony Parker: Look what you're missing!
The two had lunch at Shutters on the Beach after a meeting in the hotel's lobby.
"Eva and Tony were acting really lovey-dovey with each other," says an eyewitness. "She was stroking his head with her hand. They did not look like a couple that has just filed for divorce."
We're also told that Longoria spent time in Parker's bungalow.
"Eva looked beautiful," said the eyewitness. "She was wearing no makeup, but she's always flawless."
Parker's team, the San Antonio Spurs, stays at the hotel whenever they're in L.A. for a game. They play against the Clippers tonight.
Reps for Longoria and Parker declined to comment.
Friendly afternoon aside, Parker needs a new divorce lawyer. He's no longer represented by attorney Richard Orsinger because he also happens to be representing Brent Barry, Parker's ex-teammate and husband of the basketball star's texting mate.