Paris Hilton: Detained in Asia and "Very Disappointed"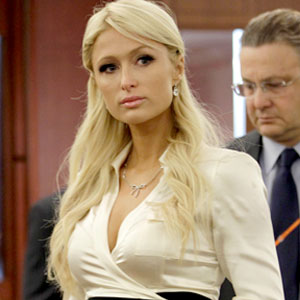 AP Photo/Mark Damon
So much for putting it all behind her.
Yesterday, Paris Hilton pleaded guilty to a cocaine possession charge and jetted off to Asia on a previously planned business trip.
She was scheduled to make an in-store appearance in Tokyo Wednesday, but that's in jeopardy after she was detained upon landing at Japan's Narita Airport...
Hilton's rep confirms that immigration officials detained Paris upon arrival. Anyone on a suspended jail term (such as Hilton) is not allowed to enter Japan except for "special reasons," the Narita branch of the Tokyo immigration control office told local news agency Jiji.
"Paris was contractually bound to her business trip and didn't want to let down her brands and many fans Asian fans," her rep told E! News. "She intended on fulfilling her contract and is trying hard to do the responsible thing, but this is beyond her control. She is very disappointed by tonight's events."
Hilton's travel was not restricted as part of her drug sentence, according to the Las Vegas D.A.
Paris and sister Nicky, who's in Japan with her, were all smiles when they first touched down.
"Just landed in Tokyo with my BFF/Sis @NickyHilton," she posted on Twitter, along with a pic of the smiling sisters.
Paris is reportedly staying in an airport hotel overnight while the situation gets sorted out, and she may return to the United States without making her scheduled stops in Malaysia and Indonesia.
________
So maybe she won't be making an appearance in our Party Pics: Global gallery after all.