UPDATE!
Tiger Woods Finally Divorced; Porn Stars and Cocktail Waitresses Rejoice!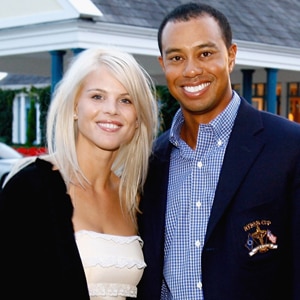 David Cannon/Getty Images
A circuit court in Florida has just done something that dozens of mistresses, one stint in sex rehab and years of betrayals couldn't (though not for lack of trying): end Tiger Woods' marriage.
Woods and Elin Nordegren both turned up at Panama City's Bay County Circuit Court this morning as a judge executed their divorce agreement, ending months of speculation as to the state of their nearly six-year, ever-strained union.
"We are sad that our marriage is over and we wish each other the very best for the future," the duo said in a statement released after the 10-minute hearing. "While we are no longer married, we are the parents of two wonderful children and their happiness has been, and will always be, of paramount importance to both of us."
The documents, which characterize the marriage as "irretrievably broken," don't detail their split, but then again, they don't really have to: the media have taken care of that since the 34-year-old golfer's life-changing car crash last Thanksgiving.
Court papers also fail to reveal details of the duo's settlement, meaning exactly how much of Tiger's bounty Elin will pocket remains unclear. Though rest assured, with some reports low-balling the 30-year-old's intake at $100 million, it's going to be substantial.
The lack of information means that Tiger's lawyers were likely successful in their bid to slap a confidentiality clause on the divorce, a hang up on the finalization of the divorce as of last month. The duo signed the air-tight papers on July 3 and 4.
The other sticking point that dragged proceedings on a bit longer was their division of child custody. It's unclear what the final split was, though the couple said they will "share parenting." It was previously reported the duo was looking to share joint custody, with kids Sam, 3, and Charlie, 19 months, nevertheless spending the majority of their time with Elin.
"Once we came to the decision that our marriage was at an end, the primary focus of our amicable discussions has been to ensure their future well-being," the couple said. "The weeks and months ahead will not be easy for them as we adjust to a new family situation, which is why our privacy must be a principal concern."
Better late than never.
(Originally published Aug. 23, 2010, at 12:02 p.m. PT)
Check out which other stars have made their way through divorce court in our Big Celeb Splits gallery!