Sandra Bullock and Jesse James "Move On" Separately...Together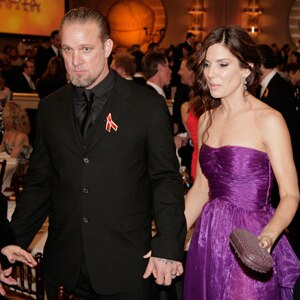 Paul Drinkwater/NBCU Photo Bank via AP Images
Austin, Texas: apparently, this town is big enough for the both of them. Though we think it's Sandra Bullock who's really being the big one here.
While most people wouldn't be too down with their lying, cheating ex following them halfway across the country, Sandy appears to be totally cool with it, welcoming Jesse James' relocation to her adopted hometown all for one very simple reason…
She's so over him.
"I support Jesse in his move to Austin," Bullock says in the new issue of People. "We have both moved on with our lives and only want the best for each other. Anything else that is said on my behalf is inaccurate."
Proving her point, last Friday the Oscar winner was accompanied by sister Gesine and a select group of pals (none of whom have ever had the bad sense to pose in Nazi paraphernalia) to a New Orleans courtroom, where she finalized her solo adoption of 8-month-old Louis.
James, too, appears to be moving on swiftly, having wined and dined (and cuddled up to) fellow inked-up celeb Kat Von D in both West Hollywood and Las Vegas over the past week.
________
Check out the couple in happier times in our Sandra & Jesse: Monster Love gallery!