It's more fun than doing it alone
This Just In: Is Crystal Bowersox Leaving American Idol?!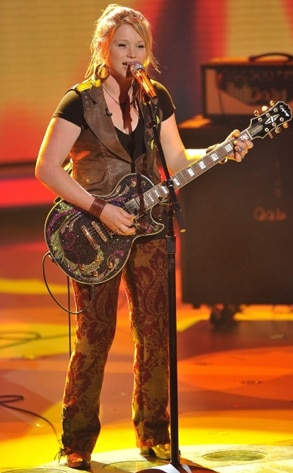 Michael Becker / FOX
American Idol: Noooo, say it ain't so! Our Idol-lovin' hearts broke a little this morning when we heard rumors that this season's only hope front-runner Crystal Bowersox almost walked out on the competition a few weeks ago, saying it was just too much to handle.
Lucky for us, Idol's very own Superman, aka our very own Ryan Seacrest, was on hand to save the day. Ryan confirms reports that he tracked down an emotionally drained and homesick Crystal in the parking lot after a show some two weeks ago and talked her down: "The greatest thing I ever did was make enough money so I could buy my mom a house," he told her. "You can buy your mom a house."
Phew! Major bullet dodged. Now onto happier Friday goodies, including more of that sexy show we call Burn Notice and loads of Desperate Housewives news not involving any real-life scandal...
Vampire Diaries: Spoiler Alert! We here at Watch With Kristin love us a good ol' joyous family reunion, but this looks neither good nor joyous, so there that goes. What these spoilerific V.D. shots do show us is a whole lotta crazy, including what looks like a tearful goodbye, a man down and a shirtless Ian Somerhalder. So yeah, it's not all bad.
Burn Notice: Boo to the yah! Jeffrey Donovan and Gabrielle Anwar will be back in all of their hotness for a fifth and sixth season, before their fourth year has even seen the light of day. Says USA bigwig (and apparent genius) Jeff Wachtel: "Once Saturday Night Live makes fun of you, how can you not commit to extra seasons?" Oh, we so love a man who can laugh at himself. By the way, what is Burn Notice?
Desperate Housewives: Looks like the new motto over on D.H. is "Save the drama for your...wackadoodle season finale"?! Whatever works! TV Guide Magazine is reporting a former series regular just signed on for a shocking finale return that will run well into season seven. Guesses? Elsewhere, EW.com had five finale facts courtesy of executive producer Bob Daily. The biggest tease? "A big explosion" is on the horizon!
Friday Night Lights: Tami Taylor has finally found a BFF in theater vet Lynn Blackburn.Take a peek here.
Doctor Who: Since you loved our Doctor Who scoop a few weeks ago, we're giving it to you again—and so is Televisionary's Jace Lacob. With the premiere only one day away, star Matt Smith talks filling in the doc's shoes.
Any thoughts on the Crystal Bowersox situation? Are you happy she's still around? Give us your lovely feedback below.
Watch with Kristin is currently looking for summer interns so if you love TV and will be in the Los Angeles area, shoot us an email at tvdiva@eonline.com. Please be sure to include your resume and reasons why this is the perfect gig for you.
__________
Browse through our Tweet Peeks for even more fun news!