About the B!tch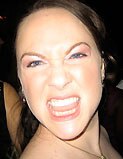 The Answer B!tch doesn't have to tell you anything about herself, but she will anyway. Because she's good to you like that.
Leslie Gornstein is a Los Angeles-based entertainment reporter and writer of miscellany whose work has appeared in the Los Angeles Times, the New York Post, the Wall Street Journal, Utne Reader and so on and such.
As the Answer B!tch, E! Online's resident question-and-answer columnist, Gornstein has built a fan base of, like, millions of rabid B!tchlettes, many of whom follow her every syllable during her weekly podcast and satellite radio show.