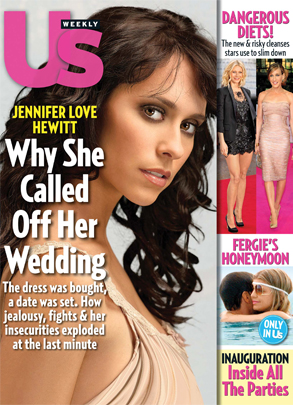 Us Weekly
She scored her first-ever People cover in December 2007—but only as a plus-size bikini model. Now Jennifer Love Hewitt is on the cover of Us, being dissected for her breakup with ex-fiancé Ross McCall.
According to the magazine, J.Love had already bought her wedding gown and set the date and destination for her spring 2009 wedding when she called off the nuptials. Aw.
But apparently it's all Jennifer's fault. The "serial heartbreaker" is "needy and immature" with "trust issues" and a "history of body issues," according to sources.
Why all the hating on the Hewitt? OK, so we never bought that size 2 story either, but girlfriend is the star and producer (and, for this Friday's show, director) of successful CBS staple Ghost Whisperer. Doesn't she deserve some diva days?!