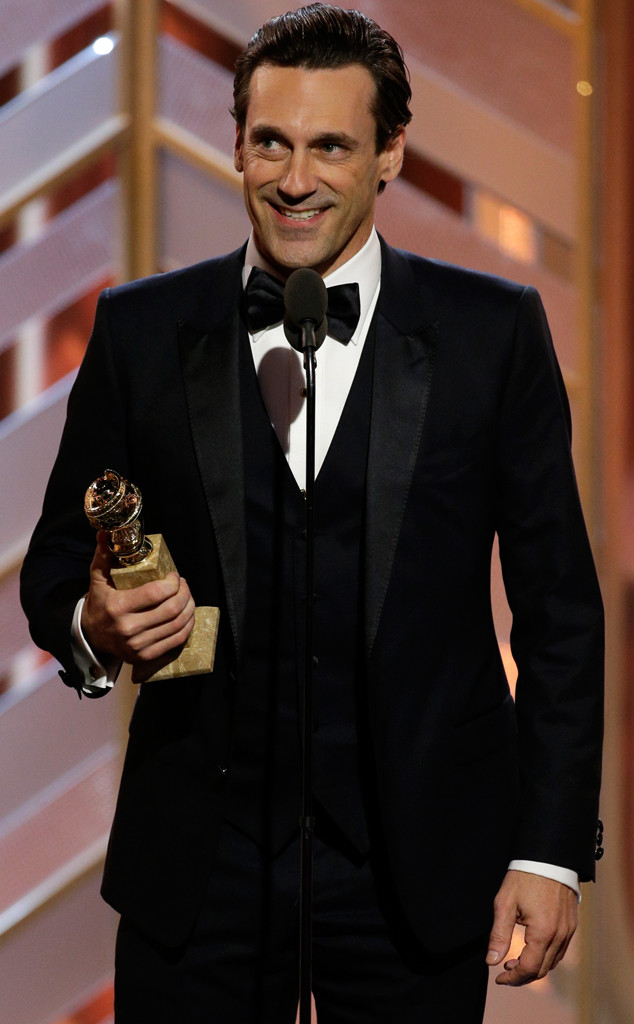 Paul Drinkwater/NBC
You can't win 'em all, Jon Hamm.
The Mad Men star took home a Golden Globe this year for his work on the hit show, but he revealed to Vanity Fair that while he actually has two trophies for the role, only one technically belongs to him. The other, he said, belongs to John Hamm. It turns out the Hollywood Foreign Press Association misspelled his name on his first trophy, which he earned during the writers' strike, so it was sent to him in the mail.
"And they spelled my name wrong, which was also awesome," he explained. "I was like, 'Oh man. Uh, guys, there's no 'H'," he said.
Awkward! Even worse is that they haven't sent him a new plaque to stick over it, so he's stuck with John. Given the fact he has earned a total of six nominations for the character of Don Draper and has taken home the award once before, one would hope the HFPA would double check the spelling, but hey, mistakes happen.
The Bridesmaids actor fortunately had a sense of humor about the whole faux pas and informed them of the proper spelling, even suggesting "Jonathan" has another option should he win again. But this year's victory caught him off guard enough that he stumbled his way through his speech.