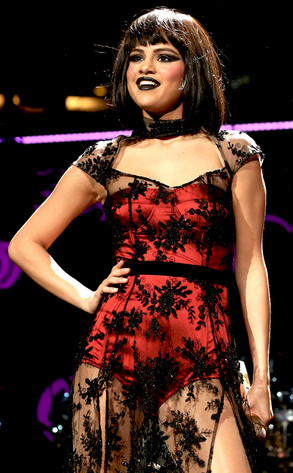 Christopher Polk/Getty Images for Clear Channel
Sometimes it's hard to hide your frustration when you're on stage. And that's exactly what happened to Selena Gomez during a performance at KIIS FM's 2013 Jingle Ball on Friday, Dec. 6 in Los Angeles.
The 21-year-old pop star, who looked sultry in a red strapless bodysuit with a black lace overlay and a black bob wig, had just finished singing one of her hits and apparently lost her cool because of technical difficulties.
"She for sure said 'what the f--k,'" an eyewitness reveals to E! News.
According to this same eyewitness, the lights were off so the brunette beauty's f-bomb moment wasn't shown on the big screen, but "you could hear it crystal clear."