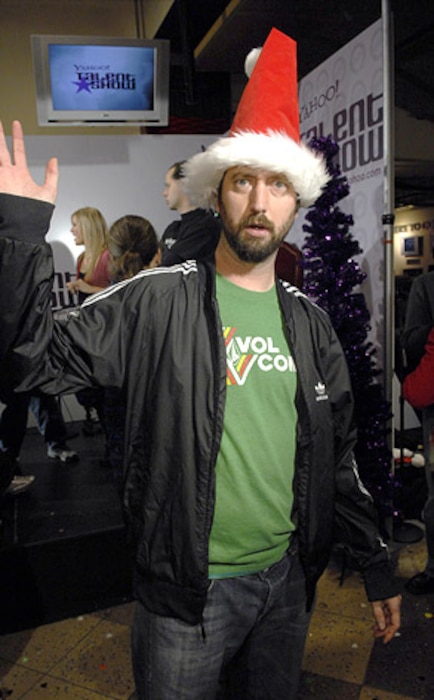 Jemal Countess/Wireimage.com
'Member ick-inducing comic Tom Green? We barely do, and we sure bet Drew Barrymore doesn't—the two were only married five months back in 2001, and it's been a Justin Long time since then. But oh, back in '01, Greenie had the world on his shoulders, seemed like—his cult-hit MTV show was making its ways mainstream, he had a cutie-patootie starlet on his arm, and even testicular cancer couldn't keep the guy down.
Seven years later, we're seeing just how low a has-been could go.
Our AT snooper was in the house for some stand-up at Hell-Ay's hipster hang Spaceland in Silverlake. T.G. took the stage, second comedian out of seven—not exactly a headlining spot. Dude did his set dressed up in a fluffy blond wig, a satin tux and a full-on beard (his own), calling himself Rick Rogers and whipping out a guitar.
Our comedy eyes claim the night's first stand-up comic "wasn't funny," but was Jerry Seinfeld compared to Green's terrible 20-minute set. Says our unamused source, Green was "pathetic—the worst comedy show I have ever seen."
Dude sounded like he was making it up as he went along, inspiring not a single chuckle in the critical crowd. At one point, he sang (more like screamed) a song dedicated to "Sara," first declaring his love for her then shouting, "I hate you! You f--king bitch!" Maybe he never got over his Barry-babe?
T.G. wasn't even offensive or engaging in any way—just loud and unfunny. If we wanted to watch something tragic, we would've tuned into the Republican National Convention.
—With additional English-screwin' reporting by Becky Bain