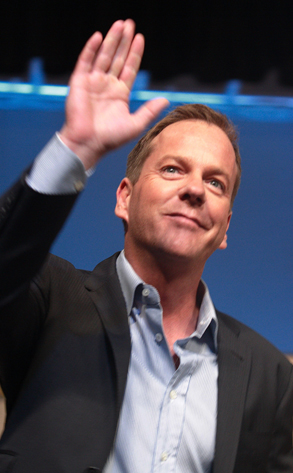 Wendy Redfern/Getty Images
UPDATE: Michael Wayne Carr pleaded guilty to felony theft and forgery and is facing a possible seven-year prison sentence. Sentencing is scheduled for Nov. 1, when he'll also be ordered to pay $956,000 in restitution to Sutherland and his investment partner.
_________________________________
You have to get up pretty early in the morning to pull a fast one on Jack Bauer. Kiefer Sutherland, on the other hand, is a slightly easier mark.
The 24 star was named as one of the victims of a cattle scam, losing roughly $869,000 in a bogus deal to buy Mexican steers on the cheap and sell them at a steep profit in the U.S.
Unfortunately, Sutherland waited a bit too long to ask that all-important question: Where's the beef?