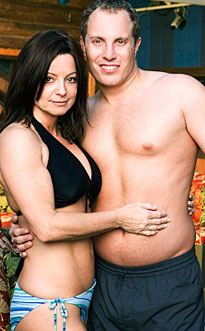 Monty Brinton/CBS
UPDATE: A judge granted Adam Jasinski's get-out-of-jail appeal, allowing him to stay instead at a substance-abuse treatment facility so long as he fully participates in the program and follows all rules. He must surrender his passport and is not allowed to travel outside Massachusetts upon his completion of the program, after which he must go back to court to further discuss the terms of his release.
In the meantime, Jasinski was asked to put up three properties he owns as collateral to assure his next court appearance, and his parents were ordered to put up their home, as well.
__________________________________
For someone who won Big Brother, you'd think Adam Jasinski could get along with his housemates. Think again.
The trouble-prone season-nine champ of the CBS reality series has filed a petition with a federal court in Boston practically begging to be let out of the slammer and be allowed to move back in with mom and dad.