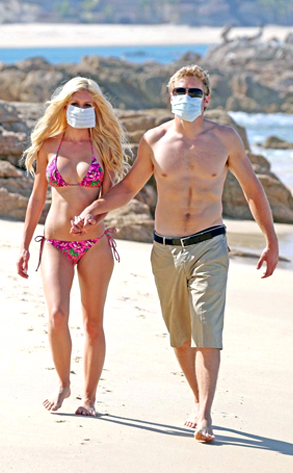 Kevin Perkins/PacificCoastNews.com
Results Update: You voted in huge numbers and commented like crazy, and now it's time to get the results. Tune in to E! News Monday at 7 p.m. ET/PT and find out whether Speidi stays or goes. Don't miss this!
Here's a sampling of user comments:
Please!: Can I vote a billion times for "Yes"?!?!
Laura: No, they are thoroughly entertaining and ideal reality TV villains. Keep them on and keep me entertained.
Me: I vote Yes. I also want a Speidi blocker if there is such a thing.
SuzieQ: Keep reporting on them. Their stupidity is comic relief.
me1976: I want the oxygen they used back!
S: You need a third option. Just ban Spencer. Rescue Heidi.
hokisteph5: Yes, a thousand times infinity, yes.
Guest: Nooooo, please dont get rid of them! I love heidi and specer, just cant get enough.
Al: Except if a sex-tape shows up...
_________________________________
Have you had enough?
We're referring, of course, to Spencer and Heidi Pratt, the reality show retreads who will go to any length—from swine flu photo ops to claims of South American torture—to get a little attention. OK, all your attention.
Now's your chance to make Speidi go away.
Beginning today through Sunday, we are putting it to the fans to decide whether to banish Heidi and Spencer from E! forever, or at least until they do something truly newsworthy. Or let us know if you want to see their every move documented. Vote in our online poll to declare E! a Speidi-free zone. Results will be announced on E! News Monday at 7 p.m. ET/PT.
Al Roker was joking when he said he'd "hit them with Mace and tie them up." We obviously don't condone that craziness at all, but if you can irritate the unflappable Roker that much, well, you've got to be pretty annoying. And since you voted Spencer Most Awful celeb, you may just agree.
So let's settle this like adults: Have you had enough Speidi or would you like some more? We'll do as you wish.
The choice is yours.