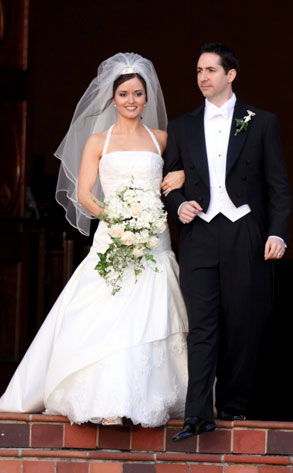 SC/BB/Flynet
Forget the happily ever after for Winnie Cooper and Kevin Arnold.
Actress-turned-mathlete Danica McKellar tied the knot with her longtime boyfriend, composer Mike Verta, in La Jolla, Calif., Sunday in a sunset, oceanside ceremony.
The 34-year-old star and her 36-year-old groom, who have been together since 2001, swapped vows in front of 150 guests. While former small-screen beau Fred Savage was MIA, a few other Wonder Years costars were present and accounted for, including sister Crystal McKellar, who served as maid of honor, and Dan Lauria and Alley Mills, who played the Arnold parents.
"We wanted an intimate, formal event," the bride told People. From the sounds of it, the ceremony didn't disappoint.
She donned a mermaid-style Renee Strauss gown and tiara, and walked down the aisle to the accompaniment of the San Diego Symphony.
McKellar, who has a math degree from UCLA and has authored the books Math Doesn't Suck and Kiss My Math, most recently starred in the 2008 Sci-Fi Channel movie Heatstroke, for which Verta composed the score.