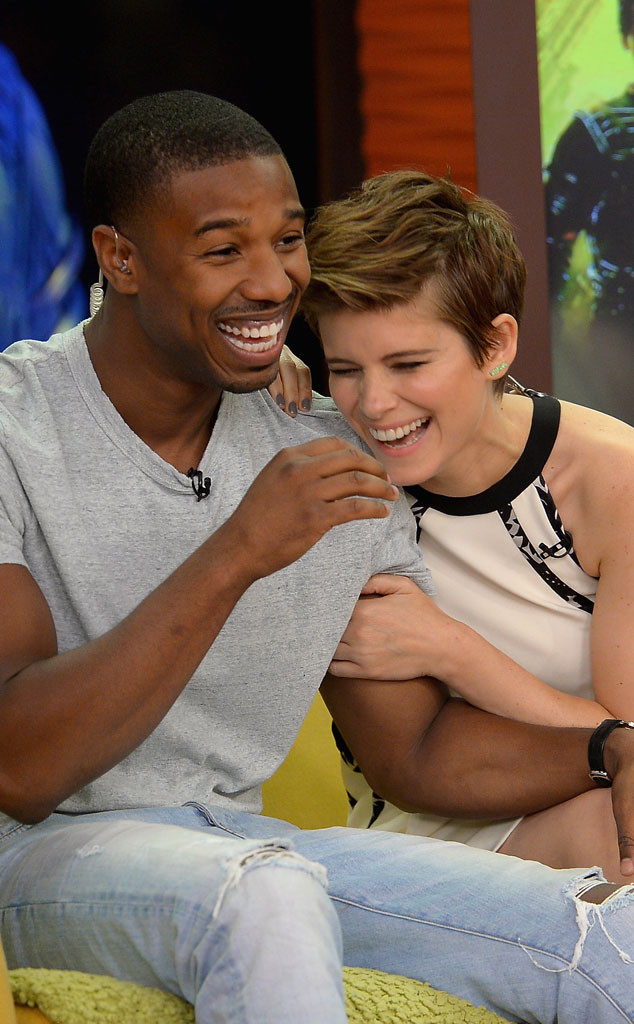 Gustavo Caballero/Getty Images
Another week, another awkward interview.
This time, three of the stars of Fantastic Four were fielding uncomfortable questions, courtesy of shock jock Steven J. Rickman. The radio host, known as Southside Steve on the Rock 100.5 Morning Show in Atlanta, began by asking Michael B. Jordan and Kate Mara what he thought was an "obvious" question, as he plays Johnny Storm/Human Torch and she plays Susan Storm/Invisible Woman.
"Am I missing something?" Rickman asked.
"You're white and you're black," he said. "How does that happen?"
"They could be raised as brother and sister," Jordan said of the Storm siblings, who are white in Marvel's comic books. "There's a whole bunch of family dynamics that could be without the 'obvious adoption.'"
The conversation took another sharp turn when Rickman became seemingly obsessed with Mara's appearance—particularly in relation to her hair. "You're way, way hot," he told her. "Why'd you cut the hair? Your hair was beautiful."
"I'm sorry," Mara said. "I know you don't like it. I can tell."
"This is a great interview," she said sarcastically before exchanging glances with Jamie Bell and Jordan. Rickman told her, "You look great with short hair or long hair, but the long hair was excellent. So, did you cut your hair for this?"
"I cut my hair for a movie I just did," Mara replied.
"What would you cut your hair for?" Rickman asked.
"They asked me to," Mara explained. "I'm an actress. I have to be a chameleon."