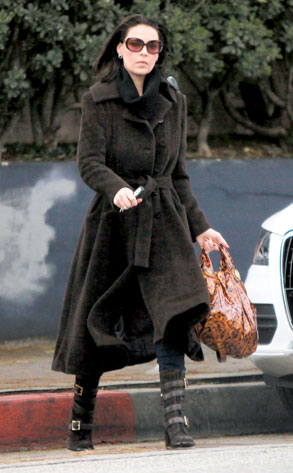 Flynet Pictures
Well, look at this. Katherine Heigl is now a brunette. Last time we saw the Grey's Anatomy star, she was rocking short curly Marilyn Monroe-ish hair so this is quite the change.
Overall, it makes her scowl look even scarier—or maybe something's bothering her today? It could be anything, really:
Paparazzi. Hmmm, that's too easy.
She hates the hue and can't wait to bad-mouth the colorist to whoever will listen.
The weird weather in L.A.—too hot to wear such a big coat but also too cold not to. How do you deal with such a thing?!
No Oscar invite for her. Wah. Isn't she supposed to be a big movie star by now or something?
Grey's Anatomy called and demanded she get back there.
Despite the mood, let's offer a warm welcome to Team Brunette. However long it lasts.