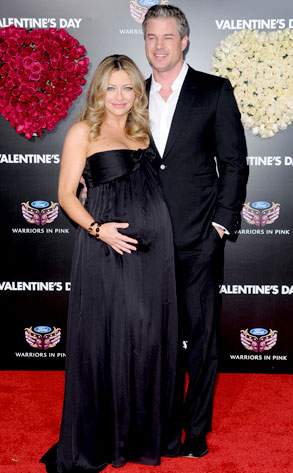 Frazer Harrison/Getty Images
The Grey's Anatomy star has gotta be tickled pink—Eric Dane and wife Rebecca Gayheart welcomed their firstborn in Los Angeles yesterday, a daughter whose name has yet to be announced.
Though we're guessing Kari Ann is out. As, hopefully, is Jane, as Ellen DeGeneres suggested (Jane Dane? We'd almost prefer Pilot Inspektor).
"Mother, father and daughter are doing great," a rep for the couple said in a statement.
While appearing on Ellen's show last month, the 37-year-old new papa said they would wait until they met their baby girl until bestowing upon her a name, which Dane promised wouldn't be "weird."
"We went straight down the middle on this one," he said at the time.
But the best part of all of this? Other than that whole welcoming new life thing…Dane was reportedly rocking scrubs while the 38-year-old Gayheart did her thing at Cedars-Sinai Medical Center. Don't even try and keep this guy out of character.