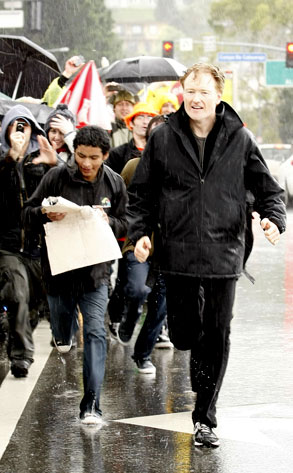 Nathanael Jones/Sam Sharma, PacificCoastNews.com
Low ratings on NBC? No problem. The world is Conan O'Brien's audience now.
The deposed Tonight Show host is the latest celeb to take to Twitter, posting his inaugural tweet Wednesday afternoon.
"Today I interviewed a squirrel in my backyard and then threw to commercial. Somebody help me," wrote the veteran funnyman, who perhaps wanted an incubator in which to keep his jokes warm while he finalizes plans for a national tour.
So far, so good. His online bio states: "I had a show. Then I had a different show. Now I have a Twitter account."
And 178,903 followers at press time, six hours after that first post.
"If this is really @conanobrien on twitter, then my life is complete!!! Coco! Coco! Coco!" wrote a very excited Christina Applegate.