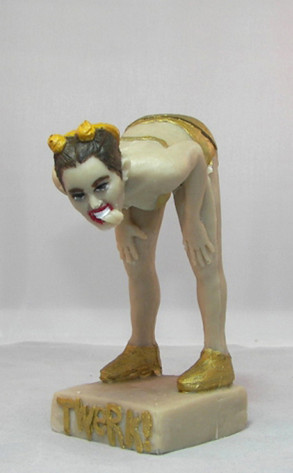 herobuilders.com/
Good news: Miley Cyrus Shitfest 2013 is finally coming to an end.
If there's one thing we know for sure, it's that being turned into a bobblehead is the pinnacle of any celebrity's career. And despite the fact that this is a bobbleBUTT, not a bobblehead, we're pretty sure this marks the decline of Miley.
According to the website selling these little gems, there's a limited number:
"ORDER 'THE TWERKING FIGURINES - BOBBLE BUTT' BEFORE THEY ARE SOLD OUT. ONLY 5000 UNITS WILL BE MADE - LIMIT IS ONE PER ORDER 29.95. The first 2500 WILL BE DELIVERED BEFORE THE HOLIDAYS."
So act fast if you're eager to essentially throw some money into a trashcan.
AND CHECK OUT OUR GALLERY OF OTHER RIDICULOUS CELEBRITY BOBBLEHEADS!