Kris Jenner Shares New Update on Rob Kardashian
The "Keeping Up With the Kardashians" star reveals new details on how Rob has been doing lately. Hear what she says.
Share

0

Tweet

0

Share

0

<> Embed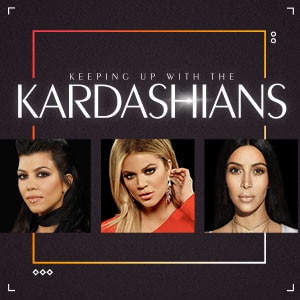 7:00 AM

When it Rains, it Pours - Part 2

Kendall worries that a bad review of the Kendall+Kylie Collection from Vogue could jeopardise...

8:00 AM

The Ex Files

After a fight between Rob and Chyna, the sisters feel protective. Kris tries to make amends with...

1:00 PM

Non-Bon Voyage

The family flies to St Bart's to forget their troubles, but drama has a way of following them....

2:00 PM

Return From Paradise

With only a few days left in paradise, Kendall and Kylie try to sort out their differences,...

6:00 PM

Press Pass

Khloe and Kourtney butt heads over the design of their fitness line, and Kim thinks the family...

8:00 AM

Guilt Trip

After taking some personal time following her robbery in Paris, Kim is back to work and fears...

1:00 PM

The Big Launch

Kourtney isn't ready for a product launch in NYC, and her sisters let her know it's time to get...

2:00 PM

Fear of the Unknown

Knowing her family's history with cancer, Kris wants the girls to take a genetic test to know...

6:00 PM

My Mother's Keeper

Khloé struggles to control her temper, Kris plants a tracking device on her mother, and Kim...

8:00 AM

Family Trippin - Part 1

After Kim busts Scott with a girl, Kourtney still allows him on the family trip. But when he...

1:00 PM

Miscommunication

Kris decides the family needs 'Communication Therapy' when she and the girls bicker, but her...

2:00 PM

The Great Kris

Kim plans a grand 60th birthday party for Kris. When news of Lamar's hospitalisation reaches the...

6:00 PM

Mime Over Matter

A guilt-ridden Kourtney must decide whether to go to Egypt without her kids. Meanwhile Khloé...

8:00 PM

Trimester Trouble

Khloé attempts to keep her pregnancy a secret while dealing with some complications, while...

8:00 AM

Family Trippin - Part 2

Scott's unwelcome guest in Costa Rica causes a stir. Meanwhile, Kim anxiously prepares to...

1:00 PM

Family First

The girls create a family video as part of Kris's birthday bash. Khloé looks for a balance...

2:00 PM

Unforeseen Future

In the season finale, with her due date rapidly approaching, Kim learns that her house...

6:00 PM

Bun in the Oven

Khloé has some big news, but her strained relationship with Corey threatens to overshadow it....

8:00 PM

The Gender Reveal

The girls take one last sister getaway to San Francisco before their babies arrive, and Khloé...

8:00 AM

Classic Cars and Vintage Eggs

Kim and Kourtney force Khloe to take a sentimental sister trip to Palm Springs. Meanwhile, Kris...

1:00 PM

Out With the Old, In With the New

The family is jolted by news that Rob is dating Tyga's ex. Khloé tries to make sure that Lamar...

2:00 PM

A New York Family Affair

Kanye invites the entire family to NYC for his fashion show, but Khloé is worried about the...

6:00 PM

Diamonds are Forever

Scott's behaviour takes a turn for the worse when he learns Kourtney has a boyfriend, while Kris...

8:00 PM

The Cleveland Show

Kim and Kourtney finally get a glimpse into Khloé's private life in Cleveland. Meanwhile,...

10:00 AM

I Want Your Sex

Khloé makes a 'love tape' for her husband Lamar Odom of the Los Angeles Lakers. Meanwhile, Kourt...

10:30 AM

Kendall Goes On Birth Control

Bruce finds out Kendall is taking birth control pills and decides it's time to talk about the...

11:00 AM

The Family That Plays Together

Kris is pestered by Bruce to sign Brandon to her new music management company. Meanwhile,...

12:00 PM

The Royal Treatment

During a trip to London with Kim, Scott decides that he wants to become a member of the royal...

1:00 PM

We're Having a Baby

The family is overjoyed about Kim's pregnancy, but Kim's surprising behaviour makes them wonder...

2:00 PM

Papa, Can You Hear Me?

Bruce is forced to deal with his hearing loss. Scott hears about a woman with cancer who wants...

3:00 PM

Kris's Mother-in-Law

Kris worries about a visit from Bruce's mom, Esther, as they've never had much of a...

4:00 PM

Backdoor Bruiser

Kris is confused when Kendall starts spending more time with the Jenner side. The kids try to...

5:00 PM

More to the Story

Kim pushes Khloe to consider adoption, but Khloe has other things on her mind. Meanwhile, Kris...

6:00 PM

Doggy Blu's

Kendall's lack of responsibility for her dog leaves her in a messy situation. Scott hits a bump...

8:00 PM

MILFs Gone Wild

Scott gets jealous when Kourtney goes on a girls' trip to Mexico. Kim feels violated when some...

9:00 PM

Cheers to That!

Kim struggles to regain her confidence after her trip to Mexico, while Khloé is hurt when Kris...

10:00 PM

Clothes Quarters

Kourtney is distracted during a sister getaway with Kendall, while Kim stages an unwelcome...

7:00 PM

Fan Friction

Khloé fears that Cleveland fans may turn on her family during a trip to see Tristan and the...

10:00 PM

Beauty Queen

Kim anxiously preps for the launch of her new KKW Beauty line, while Khloé scrambles to make...