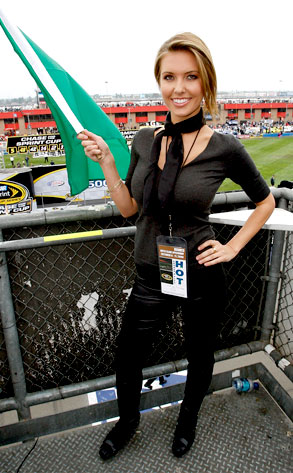 Chris Graythen/Getty Images for NASCAR
Star Magazine is reporting that Audrina Patridge is planning where her Hollywood Walk of Fame star will be located. She wants it to be somewhere "cool" like near James Dean or Johnny Depp.
The biggest problem with this story is that there are currently no plans for her to receive a star, and I have serious doubts that there ever will be. Although I've certainly seen some names I don't recognize on that sidewalk, none of them have ever been a half-retarded reality show star who is best known for Carl's Jr. commercials. I think the owner of Carl's Jr., who I assume is named Carl, should have one before she does.
If she somehow gets one, I doubt she'll get to pick the location. When Johnny Depp got his star, he actually said, "Don't ever put that Audrina Patridge girl's star next to me. Anyone else is fine, including Richard Simmons or Tara Reid."