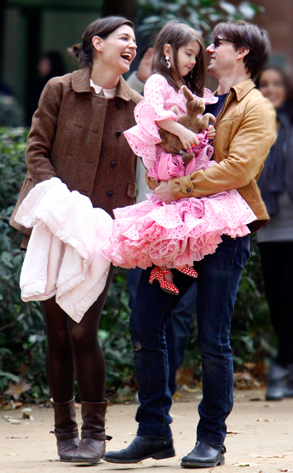 Flynetonline.com
A poll conducted in the United Kingdom named Suri Cruise the "most stylish celebrity child." Also on the list were Lourdes, the Beckham kids, and Shiloh Jolie-Pitt, to name a few.
I don't know whose big idea it was to ask a bunch of people what kid dresses the best. And why didn't Jennifer Garner's kid at least make this list above Shiloh? I didn't know that camouflage pants were so popular in the UK.
Just because Lourdes is Madonna's kid doesn't mean she dresses well. She's always in a pair of tights that look like she's just been through a minefield. I understand the Beckham kids, they dress better than most people that I know, and I'm pretty sure that they pick out their own outfits.
But although Suri Cruise is already enrolled in fashion school, I don't necessarily think she should top this list. She dresses okay, and I think that she also picks out her own clothes. She probably even lays them out at night along with her parent's clothes and a packed lunch.
But she consistently makes one huge fashion mistake that bugs me. She wears heels all of the time, and everyone knows that you should wear flats if heels make you taller than your dad. It's called respect.