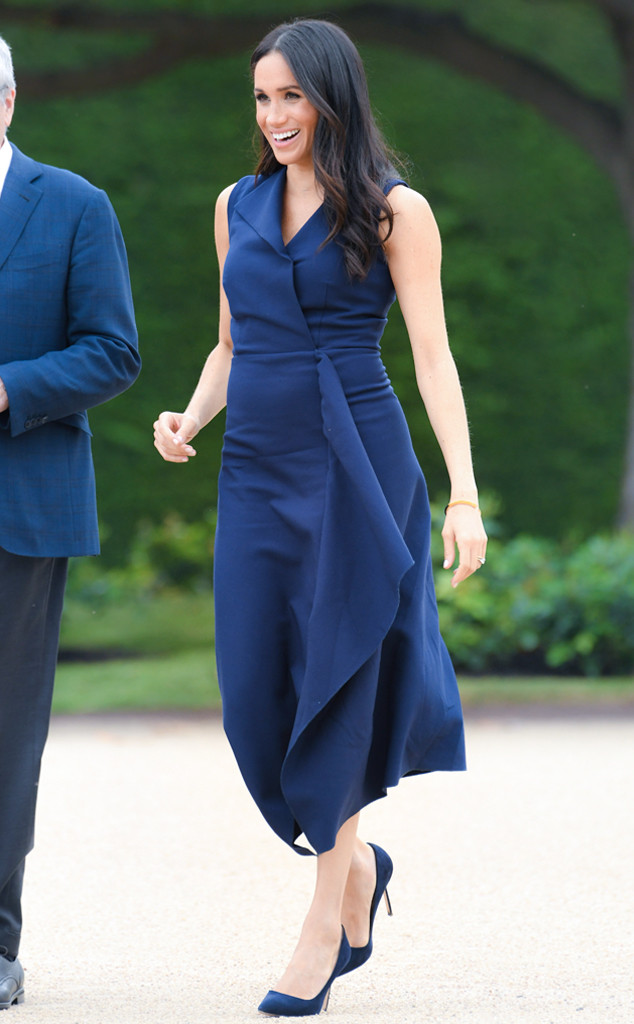 Karwai Tang/WireImage
Now that Prince Harry and Meghan Markle have announced the pregnancy, what is she going to wear?
As of this week, her growing baby bump is visible (See: Her bump in the navy blue Dion Lee dress she wore to a reception during the royal tour) and, behind-the-scenes, her team is prepping for her pregnancy and planning her wardrobe.
Of all of the designers that create maternity looks, the royals have one favorite: Séraphine, based in Notting Hill. And, according to the owner of the brand, Cecile Reinaud, her fashion brand is in the process of submitting a combination of custom and ready-to-wear designs to the castle, in hopes that they will be chosen to dress a pregnant royal once again. Most likely, they will, considering that the owner's problem-solving, women-loving brand has garnered a large number of famous fans, including Kate Middleton, Pippa Middleton, Princess Victoria of Sweden, Gwen Stefani, Anne Hathaway, Jessica Alba and Mila Kunis. Plus, the brand's affordability and professional wear align to Meghan's style, which also includes pieces from J. Crew and Club Monaco.
"When I started the brand, I was in my 30s and I wanted it to be affordable because I felt that's what I needed," Cecile told E! News. "I felt like you do have to rebuild your wardrobe when you're pregnant...You want to be able to have a big variety in your wardrobe and I also wanted the pieces to be really versatile, that they could be worn post pregnancy, you know so that you could nurse in them. It was really the ethos of the brand to keep that affordability...It's been great to see that [royals and celebrities] endorse the brand not because of the price point, but because of the actual high quality of the product and the design."