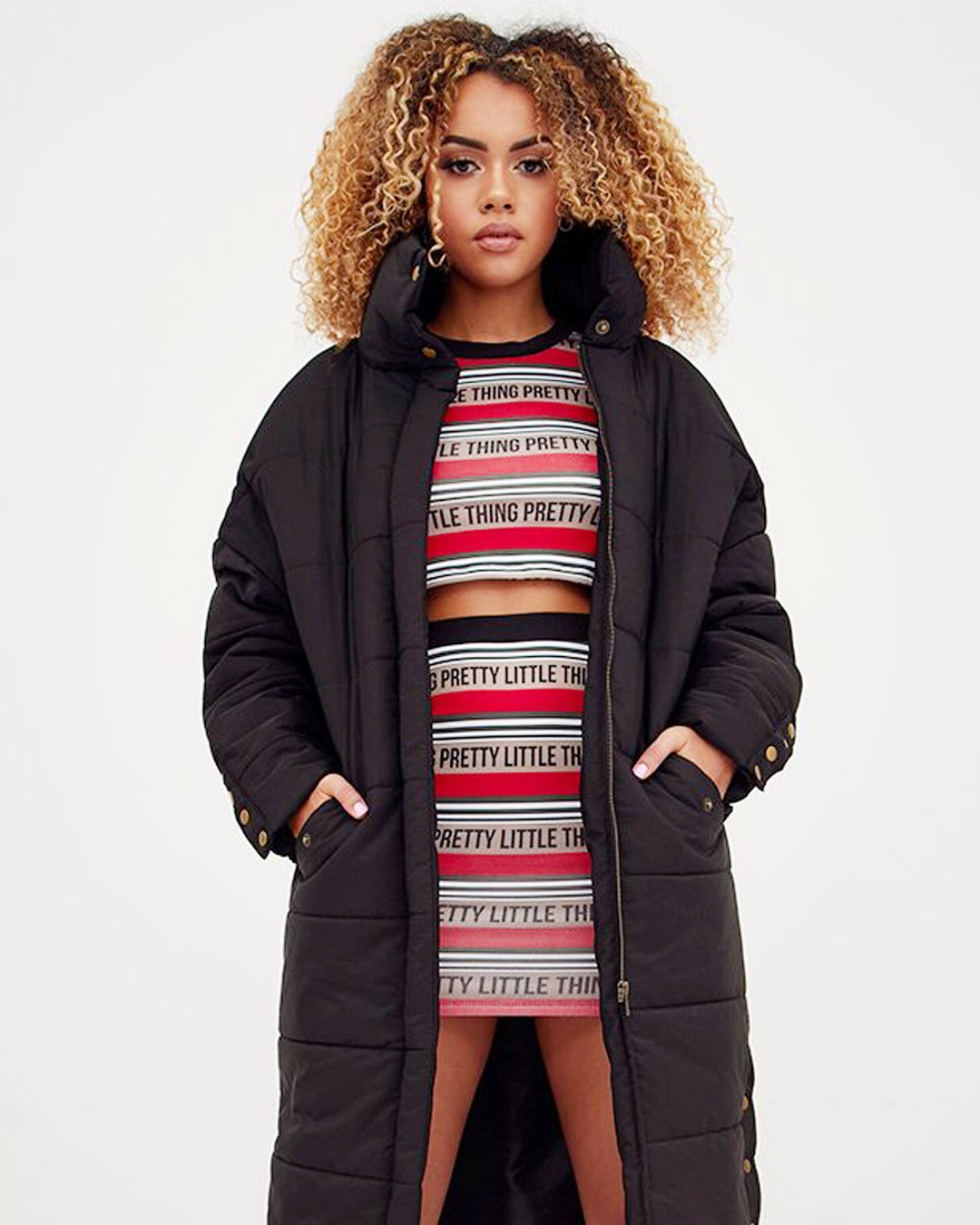 PrettyLittleThing
Like it or not, fall is the time to layer up and keep warm.
But who says you can't still do it in a fashionable way? Maybe you're in need of something warm to get you through these colder months. Or perhaps you're on the hunt for something more professional that you can wear and feel confident in at that next meeting. You're probably also going to want something sporty for your more casual life moments. Regardless of the situation you find yourself in, we've got three fall outerwear looks from PrettyLittleThing that are sure to up your style game this season.
Even better, we're showing you how to style 'em like a pro.
Let's get one thing straight: If you're going to wear a body-hugging co-ord, a cocktail dress or anything else along those lines this time of year, you're going to need a jacket that makes up for the lack of fabric. We're all about wearing what we want, when we want (despite weather conditions), so thank goodness this longline puffer is here to help us out. Not only do you get the extra layer, it's also a chic as heck option—no matter what you've got on underneath. 
BUY IT:  PRETTYLITTLETHING PREMIUM BLACK LONGLINE PUFFER JACKET, £50; PRETTYLITTLETHING SHAPE OLIVE GREEN SLINKY STRAPPY TIE BACK CROP TOP, £10; PRETTYLITTLETHING SHAPE CHOCOLATE SLINKY HIGH WAIST MIDI SKIRT, £12; PRETTYLITTLETHING LEOPARD ANGULAR SUNGLASSES, £10; PRETTYLITTLETHING BLACK HIKER CLEATED BOOT, £40
Let's say you have to put your professional foot forward, but still want to look good doing it. For these chillier months indoors, your best bet is to go with a blazer that's classy and warm. Take it a step further with fall's hottest print: leopard, of course. To style, leather-like pants give off a boss babe vibe, but strappy sandals keep it feminine. Any questions? 
BUY IT:  PRETTYLITTLETHING LEOPARD PRINT SIDE TIE BLAZER, £25; PRETTYLITTLETHING BLACK BUTTON UP PU SKINNY TROUSER, £25; PRETTYLITTLETHING MARTHEA BLACK TUBE STRAP HEELED SANDALS, £25; PRETTYLITTLETHING GOLD TWIST HOOP EARRINGS, £8; PEACHES & CREAM FUDGE LIPGLOSS, £7