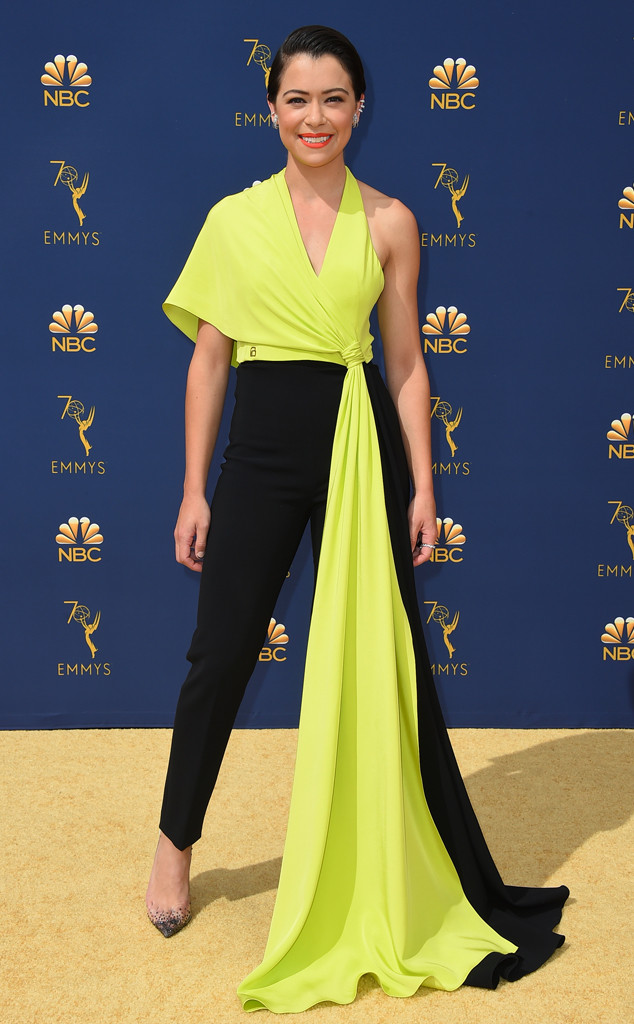 Jordan Strauss/Invision/AP
The 2018 Emmy Awards is the place for fashion, celebs and political statements.
On the gold carpet, the A-lister's are using their fame to express support for a myriad of important causes. 
Top Chef host Padmda Lakshmi accessorized her red gown with a blue ribbon to support the American Civil Liberties Union (ACLU), of which she is an outspoken activist for. She also wore the ribbon on last year's red carpet.
Likewise, Orphan Black's Tatiana Maslany used fashion as a mode of expression when she sported a Planned Parenthood pin on her lime green and black pantsuit.
And the activism didn't end there! GLOW director Jesse Peretz's wife, Sarah, made her own statement by writing, "STOP KAVANAUGH" with a phone number on her upper bicep. The message comes after Supreme Court nominee Brett Kavanaugh was accused of sexually assaulting a young woman in high school. The judge has gone through lengthy proceedings to determine if he may be confirmed, however, the recent allegations have prompted some government officials to call for the people involved to testify before the nomination committee.
Jordan Strauss/Invision/AP
Earlier on the red carpet, Black-ish's Jenifer Lewis made her support for Colin Kaepernick and Nike known when she sported a Nike ensemble. Her appearance in the bedazzled outfit comes after the company sparked backlash by making the free agent the face of a national ad campaign. The football player is known for his controversial decision to take a knee during the National Anthem, in support of the Black Lives Matter movement. 
And in the time of the #MeToo and #Time'sUp movements, these stars surely won't be the only ones to express their political beliefs tonight.
Saturday Night Live stars Michael Che and Colin Jost are hosting the 70th annual awards at the Microsoft Theater at LA Live in Downtown Los Angeles, Calif.