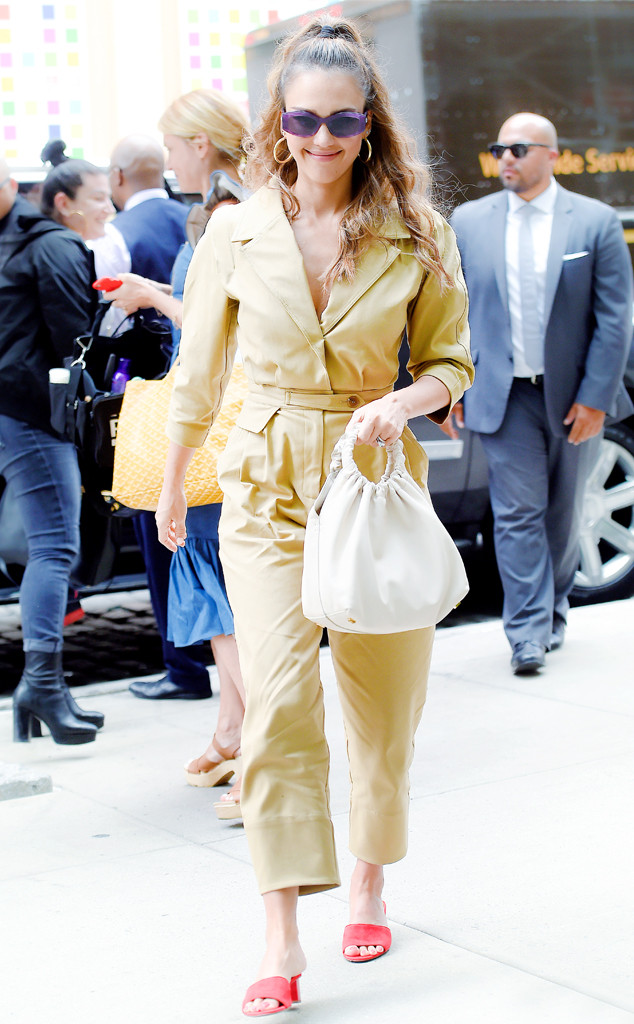 Splash News
With great style comes great responsibility…to do good.
Leave it to Jessica Alba to bring both together in a utilitarian-chic look, worn this week in NYC. The lifestyle mogul, our #WCW (Women Crush Wednesday) proved that working moms can work the school drop-off line with little effort in the style department.
To promote her partnership with Staples and DonorsChoose.org, which raises donations for local schools and education programs, The Honest Company founder opted for a Kamile Jumpsuit ($485) in khaki, purple Max Mara sunglasses and red sandals for an ensemble that says, "I can do it all."
Utility jumpsuits have become quite the trend these days, with Claire Danes sporting a Madewell iteration while out shopping and Kaia Gerber donning a Dickies variation at a high-fashion party. These structured jumpsuits, which typically feature a heavier material than their PJ-inspired, red-carpet-worthy counterparts, are typically relegated for blue-collar work and now, thanks to celebs, to make a style statement.