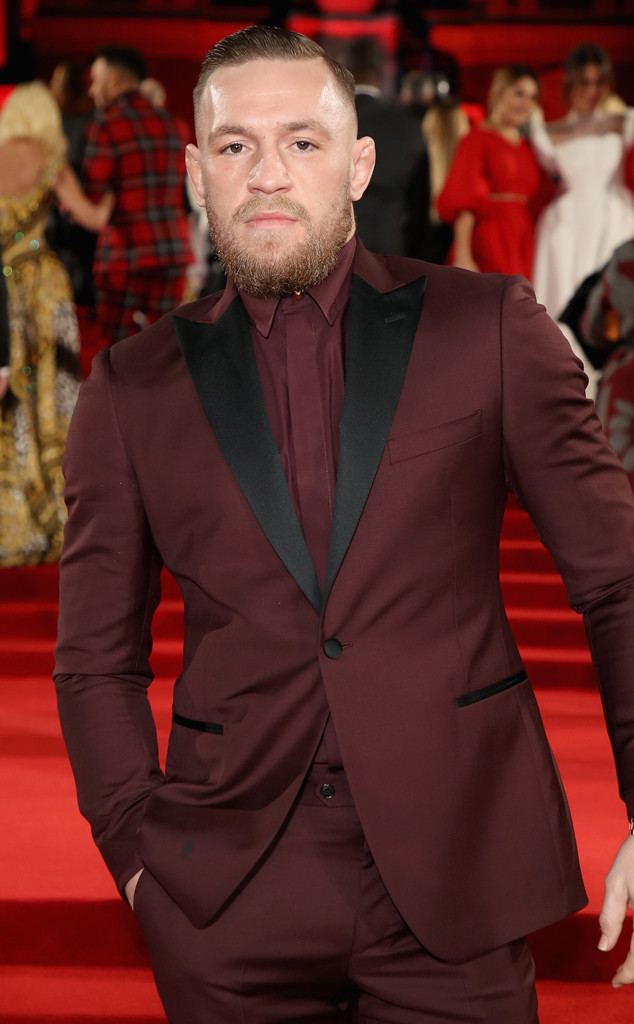 Mike Marsland/BFC/Getty Images
MMA fighter Conor McGregor turned himself in to police and was arrested and charged with assault and criminal mischief in New York on Thursday after he allegedly took part in an attack on a bus carrying fellow fighters, the NYPD says.
The incident was caught on camera after a UFC 223 press conference at Barclays Center in Brooklyn. One video shows McGregor picking up a metal guardrail and running with it in an apparent attempt to throw it at a departing bus carrying several other MMA fighters, including rival Khabib Nurmagomedov, NBC New York reported. McGregor also allegedly hurled an object that smashed a window. UFC fighter Michael Chiesa was cut in the face and hospitalized and was deemed unfit to fight at UFC 223 this Saturday, the Washington Post reported.
McGregor was charged around 11 p.m. with three counts of misdemeanor assault and one felony count of criminal mischief, an NYPD spokesperson told E! News. In addition, fellow Irish fighter Cian Cowley was charged with misdemeanor assault and criminal mischief. Both men turned themselves in to police.
A source close to McGregor told NBC New York that he was "upset and distraught" following the episode.
UFC President Dana White said on Fox Sports 1's First Things First that McGregor and "20 hoodlums they flew in from Ireland" were involved in the incident. In an earlier Facebook interview with MMAJunkie, White called the rampage "the most disgusting thing that has ever happened in the history of the company."