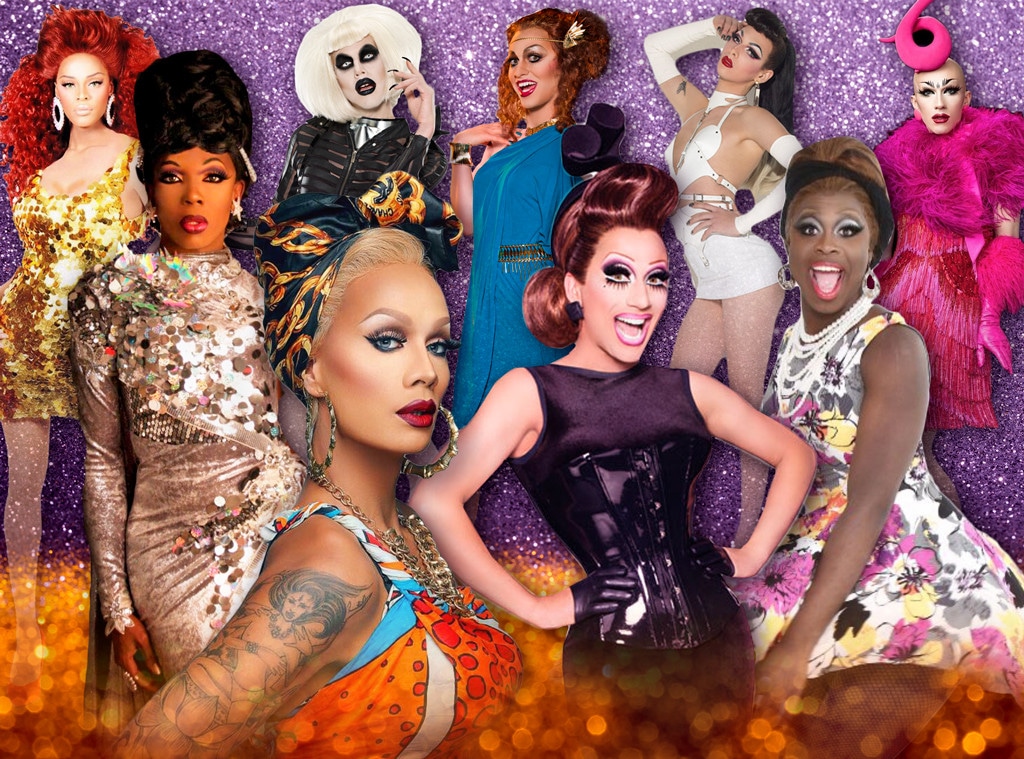 E! Illustration
The race to crown America's Next Drag Superstar is about to get underway.
But before the newly-assembled collection of queens can gather on the RuPaul's Drag Race main stage on Thursday, March 22 to prove which of them has just the right amount of charisma, uniqueness, nerve and talent to snatch the season 10 crown, we thought it was worth looking back on the nine superstars who came before them to see what they've been up to since we saw them last. From the OG winner BeBe Zahrara Benet to the current reigning queen Sasha Velour, we've done some digging on their post-Drag Race lives. And while they haven't all followed exactly the same path since being crowned, one thing is for sure: They've all managed to make Mama Ru proud in their own unique way!
BeBe Zahara Benet—Season One
Fans of Drag Race know what the OG winner has been up to as she just finished a controversial run as the surprise tenth queen on All Stars 3 that took her all the way to the finale, landing in the top four. Outside of the show, BeBe (real name Marshall Kudi Ngwa) has a rather active music career, releasing eight singles and one EP, 2017's Kisses & Feathers, since snatching the first crown. This year, she and filmmaker Emily Branham created a Kickstarter campaign to finish funding on a documentary based on her life entitled Being BeBe. As of press time, the campaign has received 62 percent of the funding it needs. If you'd like to donate, please head here. 
Tyra Sanchez—Season Two
Since her time on the show, Tyra (real name James William Ross IV) has made headlines more for controversy than for her work. While she's released some music and continued touring the country, she came under fire in 2015 for telling a fan to "kill yourself" after the fan called her annoying. She's also proven she's unafraid to speak her mind and call out many of her Drag Race sisters, even throwing some subtle shade to season nine winner Sasha Velour almost immediately after her coronation, while also taking the fans of the show to task for what she perceives to be a racial double standard that lets white queens get away with more than queens of color.
Raja—Season Three
Since becoming the first Asian-American to be crowned America's Next Drag Superstar, Raja (real name Sutan Amrull) has followed her predecessors into the music industry, releasing her first single "Diamond Crowned Queen" in 2011 and four since. She's also continued her work out of drag as a make-up artist, working as the head make-up artist on America's Next Top Model for cycles four through 12 and beating Adam Lambert's face for print media, live U.S. appearances and the singer's international 2010 Glam Nation tour. Alongside season two queen Raven, Raja has also co-hosted World of Wonder's weekly YouTube series RuPaul's Drag Race Fashion Photo RuView since 2014.
Sharon Needles—Season Four
Perhaps one of Drag Race's busiest musical queens, Sharon (real name Aaron Coady) began her recording career a year after snatching the crown with the 2013 release of PG-13. The album's opening track, "The Club Is a Haunted House," even scored an elusive RuPaul feature. Sharon continued leaning into her ghoulish eleganza for her two subsequent albums, 2015's Taxidermy and 2017's Battle Axe. She also appeared in a 2017 episode of TNT's Good Behavior.
Jinkx Monsoon—Season Five
After becoming the world's first narcoleptic drag queen to snatch the crown, Jinkx (real name Jerick Hoffer) also followed in their sister's footsteps and began a recording career. Their first album, The Inevitable Album, was released in 2014, with a second, The Ginger Snapped, released in early 2018. They've maintained a steady presence on stage, as well, most recently touring with their Drag Race sister BenDeLaCreme in a spoof of the cult classic Death Becomes Her, entitled Drag Becomes Her. As Hoffer, who identifies as non-binary and prefers the singular pronoun "they" when out of drag, they have appeared in a 2014 episode of Blue Bloods and done voice work in 2018 episodes of both Steven Universe and Mighty Magiswords.
Bianca Del Rio—Season Six
Since snatching the crown as Drag Race's first Hispanic winner in 2014, Bianca (real name Roy Haylock) carved a lane all of her own as a successful touring stand-up comic, with three successive tours. Beginning almost immediately after her coronation, she embarked on the 2014 Rolodex of Hate tour, followed by the 2015-16 Not Today Satan tour. In 2017, she began the tour that's currently taking her around the world, Blame It On Bianca Del Rio. In 2016, her first feature film, Hurricane Bianca, was released on demand and DVD. A sequel, Hurricane Bianca 2: From Russia With Hate, will be released on May 18, 2018 
Violet Chachki—Season Seven
After snatching the crown in 2015, Violet (real name Jason Dardo) took a stab at a music career, releasing her first single "Bettie" on June 2, the day after the finale aired. An EP, Gagged, was released that same month. Known for her burlesque performances and aerial work, Violet joined The Art of Teese, a neo-burlesque show headlined by Dita Von Teese in 2017. In November 2017, she became the first drag queen to land a major lingerie ad campaign, for Bettie Page Lingerie. In January 2018, she walked in Moschino's Fall 2018 menswear and women's Pre-Fall show during Milan Fashion Week, wearing a conjoined tuxedo jacket with model Oslo Grace. Since competing on Drag Race, Dardo has revealed that they identify as gender fluid, but does not have any preferred pronouns.
Bob the Drag Queen—Season Eight
After being crowned in 2016, Bob (real name Christopher Caldwell) has kept busy, releasing a trio of singles, appearing on former Drag Race judge Todrick Hall's Straight Outta Oz visual album in a truly fantastic song called "Wrong Bitch," guest-starring in episodes of High Maintenance and Playing House, and popping up in the film Rough Night. Currently, Bob can be seen co-hosting The Trixie & Katya Show on Viceland alongside All Stars 3 winner Trixie Mattel, filling in for Drag Race alum Katya as she takes a sabbatical from drag.
Sasha Velour—Season Nine
Since snatching all our wigs with a truly epic lip sync performance of Whitney Houston's "So Emotional" in the season nine finale, Sasha (real name Alexander Hedges Steinberg) has kept busy producing "Nightgowns," her monthly drag show held in Brooklyn. And if you thought her Drag Race lip syncs were impressive, check out her performance of Le Tigre's "Deceptacon" from the February show. It'll blow you away. We promise.
RuPaul's Drag Race returns for season 10 on Thursday, March 22 at 8 p.m. on VH1.