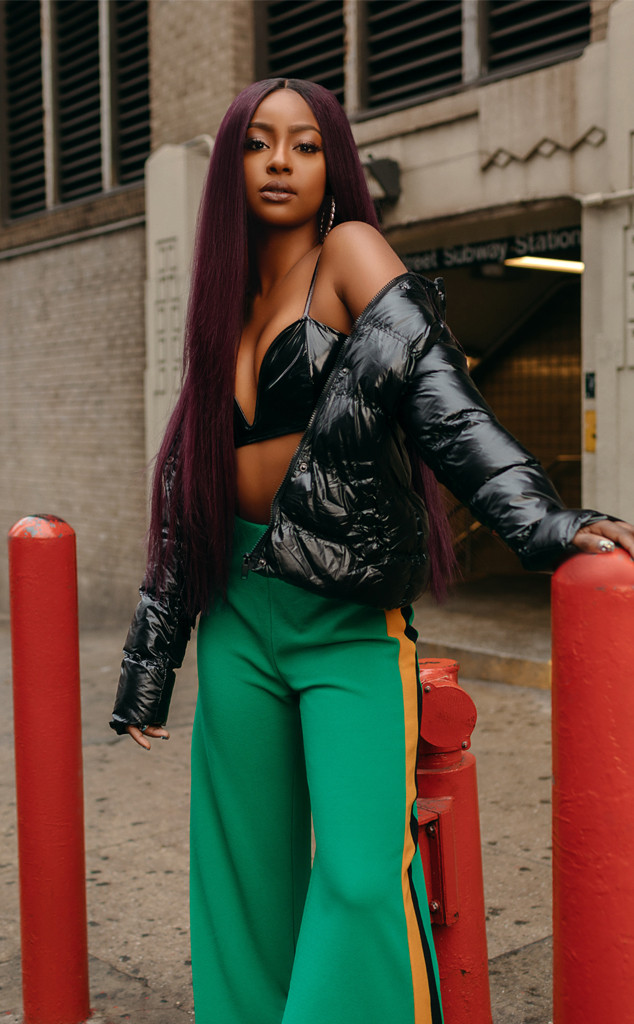 Brooily Vargas
Justine Skye has us seeing the world through ULTRAVIOLET-colored lenses.
We first got to know the 22-year-old as the friend of popular models like Hailey Baldwin and Kendall Jenner—in addition to her glamorous Insta posts—but this star is blazing her own trail. The model just released her debut album, ULTRAVIOLET, and has us feeling her message of self-empowerment and self-love.
And while Skye reveals a more intimate side of herself on the album, she is taking some time out of promoting her newest tracks to give her fans an inside look at her inspirations and her daily life.
Find out what the Prettylittlething brand ambassador revealed to E! News!
Tell us about yourself.
I'm Justine Skye and I'm an entertainer.
How would your friends describe you?
MENTAL
What's the best thing going on in life right now?
The best thing in my life right now that that my new album is dropping in 4 days. It's called Ultraviolet – go get it, it's amazing!
What inspires you?
Day to day my friends and my fans inspire me but a huge inspiration in my career has to be Beyoncé.
Best advice you've ever been told?
The best advice I have ever been told was to never argue with a fool because onlookers might not be able to tell the difference.
What's the first thing you do when you wake up in the morning?
The first thing I do is, unfortunately, check my Instagram.
What is happiness to you?
Happiness is doing what you feel is right and what makes you happy. When you're doing things because you feel pressured or someone is making you, it takes all the happiness and joy out of it.
One thing people would be surprised to learn about you?
That I'm super adventurous. You should always be spontaneous and try new things.
What do you do on your day off?
This lifestyle can be quite hectic so when I have a day off I like to relax as much as I can. I love to binge watch TV Shows—I'm currently watching Grown-ish.
If you could speak your mind on a slogan t-shirt what would it say?
CALM DOWN YOU GOT THIS!
What are your wishes/goals for 2018?
My wishes and goals for 2018 are to stay positive and to top everything that I did last year!
If you want to get a jump start on your spring shopping, make sure to check out Prettylittlething!