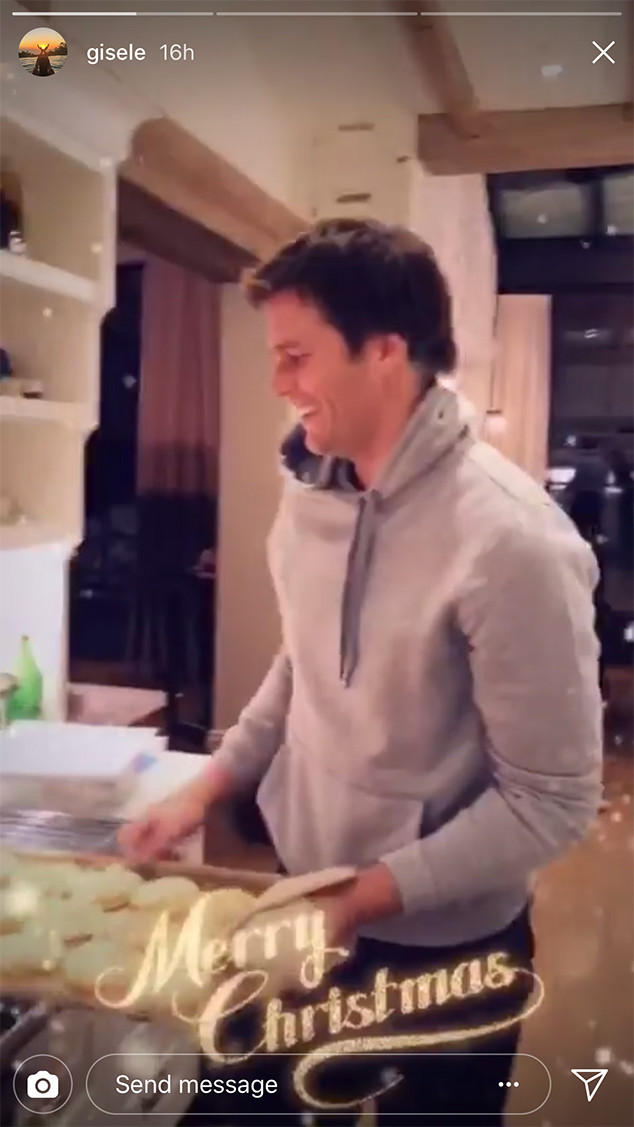 Instagram
Calories don't count on Christmas—right?
On Monday, Gisele Bundchen filmed Tom Brady baking his grandma's biscuits in the kitchen. "Mmm! Yes! Hey, Santa! Wait a minute," the Brazilian supermodel said, applying a Snapchat filter that put a Santa hat on her hubby as golden reindeer danced across the screen. "Yummy!" Calling Bündchen his "elf," he winced as he pulled a tray out of the oven. "Ooh!" he said. "Hot!" As he glazed the biscuits, the famously fit supermodel complained, "Oh, my God! More butter?"
Brady last admitted to breaking his strict diet on Thanksgiving—for the very same flakey treats. "As a young boy, my favorite part of every holiday was eating my Grandma's biscuits," he wrote on Instagram. "The first question I would ask when I walked into her apartment was, 'Grandma, did you make biscuits for me?' And of course, she always did. She is resting in Heaven now but she would be happy to know that her tradition lives on in our house. My biscuits don't taste nearly as good as hers, but after being smothered in butter and syrup, it's tougher to know the difference!" Brady's New England Patriots teammate, Rob Gronkowski, teased him about the biscuits in a press conference the next day. "He was bragging about them today, and I told him to bring some in, and he's like, 'They were so good they were all eaten.' So, I told him to make some more. I'm not lying. That's dead serious what happened. If he doesn't bring some in, there's going to be some problems." Later on, the quarterback boasted, "They were pretty good. Sometimes I screw them up but last night they were pretty good. There weren't any left."