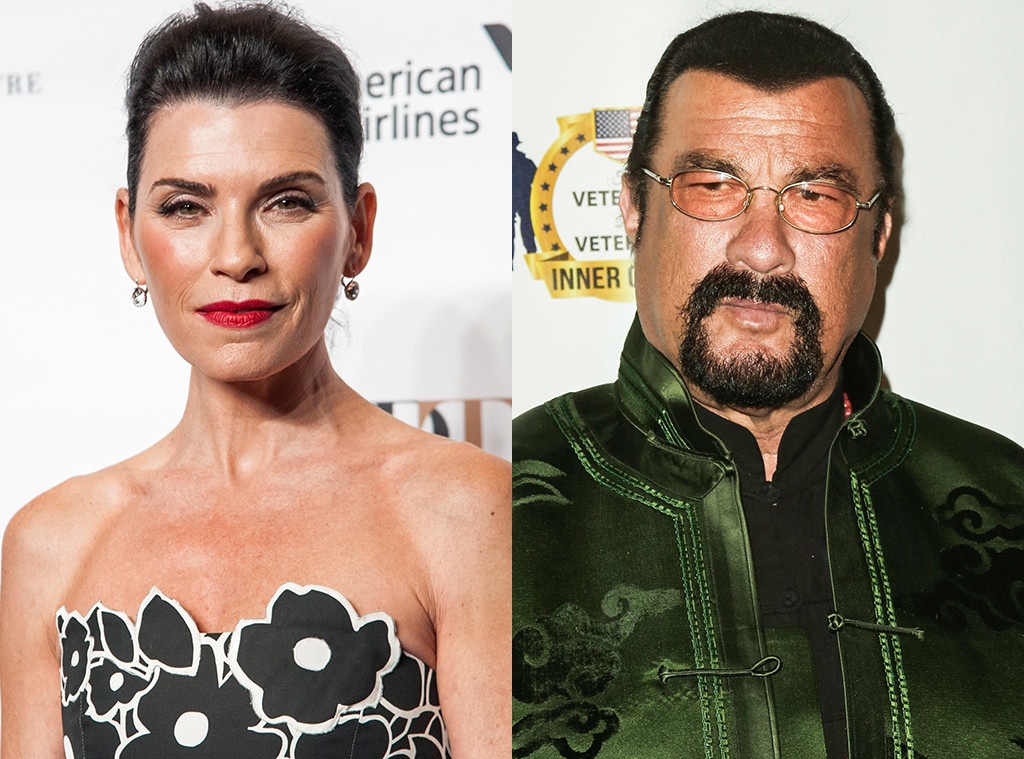 FilmMagic/Getty Images
Julianna Margulies is opening up about her uncomfortable encounters with powerful men in Hollywood.
In a new interview with Jenny Hutt on SiriusXM Friday morning, The Good Wife star recalled an alleged meeting with Steven Seagal that she hasn't forgotten about.
"When I was 23, a casting director, a woman, said, 'Well, Steven Seagal wants to go over the scene with you in his hotel room at 10 o'clock at night.' And I lived in Brooklyn, and I said, 'Oh, I don't do that. I don't travel. I don't have money for a cab.' And I didn't," Julianna said. "And I said, 'And I don't take subways late at night.' And she says, 'Don't worry, we'll reimburse you. And I'm here.' A woman, because we need to start holding these people accountable."
The actress continued, "And I got to the hotel around 10:40 p.m. and she wasn't there and he was alone and he made sure that I saw his gun, which I had never seen a gun in real life. And I got out of there unscathed…I never was raped, and I never was harmed. I don't know how I got out of that hotel room. It always starts with 'I'm a healer. I want to massage you' and I sort of squirmed my way out."
E! News has reached out to Steven's team for comment on Julianna's allegations.
While the actress admits that she ended up continuing with the movie, she learned to always have someone you can trust around.
"When I got to LA, I made sure people were around me all the time. I never was alone with him," she shared. "Because of my experience with Steven Seagal in that room, which was horrific, I refused to meet Harvey Weinstein in his hotel room when another woman brought me."
In the same interview, Julianna went on to allege that Harvey wanted to meet with her in his hotel room. When she finally agreed to go up with another person, she was uncomfortable with what allegedly transpired.
"He opened the door, in a bathrobe. I could see that there were candles lit in the room, and there was a dinner for two. And I saw him stare at her … and he looked at me, furious, and he took the door and he said, 'Just wanted to say great audition.' And he slammed the door," Julianna said. "And of course I didn't get the part."
E! News has also reached out to Harvey's team for comment regarding Julianna's claims. His team, however, continues to deny "any allegations of non-consensual sex" in recent weeks.
With every person that comes forward, the E.R. alumna does hope that it can help the younger generation be prepared when they become older.
"The point is for years, years, we also just shrugged it off. It's not to be shrugged off," she shared. "We have to start with our children and protect them and give them every tool in the shed to know that they can say no."