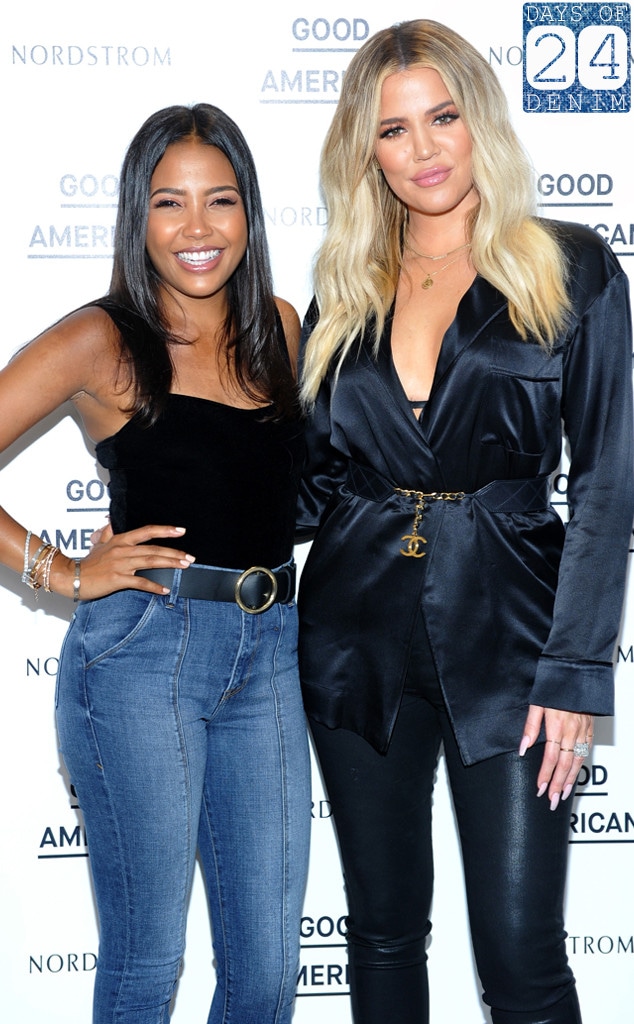 Donato Sardella/Getty Images
Rosie Huntington-Whiteley has Paige. Kaia Gerber is now representing Hudson Jeans. And if you don't know Khloe Kardashian is all about Good American, you may be living underneath a rock.
"I love how timeless denim is, and seeing old trends making a comeback is my favorite part!" said Khloe.
The Keeping Up With the Kardashians star isn't the only one breathing new life back to throwback styles. Even if you are caught up on your celebrity denim brands, you may not recognize Khloe's partner and brand co-founder Emma Grede, who celebrated the season five launch by sharing her best denim tips and tricks.
"I've found it's so hard to find a pair of jeans that fits my butt but doesn't gap at the waistband—that's why we created Good American, to properly fit the female form, which isn't typically straight up and down," Emma told E! News.
The denim dame  provided the best fit for general body types.
Petite: "Skinnies, like our Good Legs, are great because they are so slim fitting they really elongate your legs," she suggested.
Hourglass: "Any style that is high-waist will really accentuate that beautiful hourglass shape," noted the denim pro. "What's super important, though, is finding denim with a contour waistband…we've received so much positive feedback from women with curvier bodies that the waistband eliminates gaping in the back."
Pear: "A boot cut and especially a cropped boot is perfect because it creates a balance between the top and bottom half of a women's body," advised Emma.  
Athletic Build: "Women with an athletic build can wear most styles easily, but [it's] best to look for denim with great stretch for fit and for comfort and, more importantly, great recovery, so your jeans aren't stretched out because you have thighs and a butt!" she added.
Jeans are as utilitarian as they get, but should styling be a real struggle, try Emma's (and seemingly Khloe's) uniform: "The Good Straight in Black just launched, and it goes perfectly with our bodysuits. Bodysuits are our versions of 'jeans and a t-shirt' and the Snap Queen bodysuit works great with this style. I'd put this with a Givenchy studded boot in black velvet and any classic black box bag."
Of course, there are no rules when it comes to fashion, but there are a few things you can do to elevate denim pieces from wardrobe basic to statement ensemble.
"I love wearing denim on denim, but I make sure I show a good amount of skin unbuttoning my shirt or jacket and paring it with a good open heel," suggested Emma.
Where have we seen this look before? Oh, here.