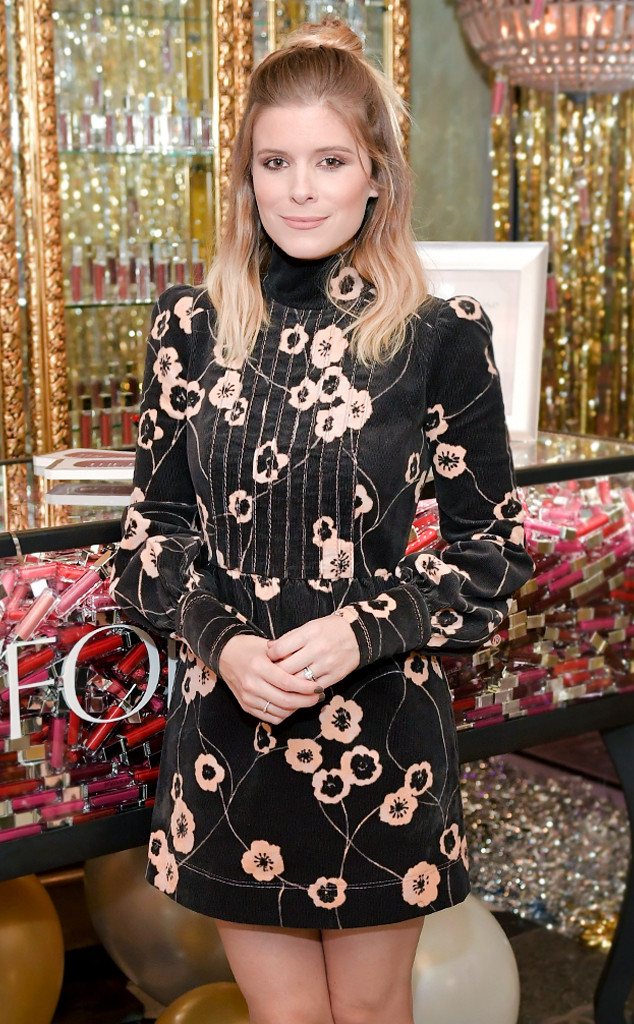 Neilson Barnard/Getty Images
When it comes to beauty, Kate Mara is as relatable as it gets. 
Despite her status as a Hollywood frontrunner, the star's preference for barely-there makeup and her sensitive skin result in an uncomplicated routine that places value on skin-care. She's loyal to her favorite products and the simplicity of her beauty.
Don't get us wrong, she's also far from a bore. With a quick Google search of the Megan Leavey actress, you can tell she enjoys change. Natural red tresses, blonde bobs, short chops—the star has tried it all (including extensions, which she hates). And, we've yet to see a style that doesn't flatter her.
E! News caught up with the House of Cards star last night as Physicians Formula celebrated its 80th birthday and limited edition Anniversary Makeup Collection. At the party, she revealed the product she's been using for fifteen years, what's in her makeup bag and how she knows when to change her hair. 
What's your morning skin-care routine?
I do the same thing every single day and night. It's really simple. When I wake up in the morning, all I do, besides rinse my face off, is put on moisturizer. I can't leave the house without doing that. And, I always put on an SPF after that, because we are in California and my skin is so fair. That's it.
When you're not working, what's your day-to-day makeup routine?
When I'm not working, I just do my best to keep it really simple. It's better for your skin that way. If I'm going to lunch or dinner or something, I use Chanel's tinted moisturizer. It's really light, so it looks like you barely have anything on. And, just a little eyebrow pencil from Dior and some mascara. It takes all of ten minutes, which is ideal.
What else do you keep in your makeup bag?
My makeup bag is really simple. I have the Chanel Tinted Moisturizer, which has a little SPF in it. Kate Somerville's moisturizer—there's an oil-free serum that I love. Dior's light brown eyebrow pencil and mascara, which is also Dior. I think they make really good mascara. It's all about the wand….It looks like you have a thousand lashes.
What about lipstick? Do you have a favorite hue or product?
Unless I'm on a red carpet, and want to do a really bold lip, day-to-day, I like really natural lip color. The liquid lip that [Physician's Formula] has is really beautiful. It's natural and keeps your lips moist.
Now that it's fall, have you changed your makeup routine at all?
Fall is my favorite time of the year, because of the colors. I'm obsessed with oranges, browns and golds. I have natural auburn, red hair. I think those colors are complimentary to the red hair. Marc Jacobs has a good palette.
Since you have sensitive skin, what do you use to take off either your day-to-day or stage makeup?
I've been using the same makeup remover towelettes for ever—like fifteen years now. They're Ponds. You can get them from any drugstore. I use that religiously. I also use Koh Gen Do…It feels like you're just using water. You don't have to scrub to get the mascara or eyeliner. 
Let's talk about your hair. How do you know when it's time to change your look?
Every time I've done something to my hair it's for a role. Forever, I had hair down to my a**. It had never been dyed before. Everyone was like 'We love the fact you have this hippie-like long hair'…Now, I'm obsessed with short hair. Right now, I feel like I'm dying to chop it all off, but I can't for work reasons. I think it's fun. The season is changing and we're always shifting...You're hair is such a big part of expressing yourself.
When you change your hair for a role, do you feel more connected to the character? 
Totally. Beyond. I've been growing it out now, because I didn't know what I was going to be working on, but I had a feeling that I was going to playing somebody that was going to have long hair. I hate having extensions. It's like torture to me, so I'm growing it out naturally, but still looking for any reason to chop it off.