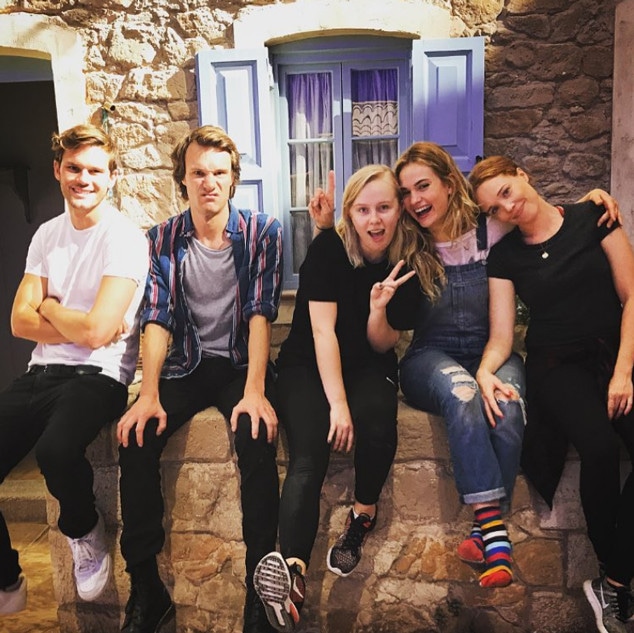 Instagram
"Ooh, see that girl! Watch that scene! Dig in the dancing queen!"
Nine years after the movie musical Mamma Mia hit theaters, Universal Pictures announced some the good news: it's bringing fans' favorite characters back for a sequel, titled Mamma Mia! Here We Go Again. The original film was based on the ABBA-inspired Broadway show, where a bride-to-be tricked  three presumed fathers into visiting Greece so she could figure out who her biological parent was—all in time for him to walk her down the aisle, of course.
Besides getting to see all our old favorites dancing their way back across Greece, the sequel (shot on location in Croatia) will feature a whole new set of players to represent Meryl Streep, Colin Firth, Stellan Skarsgård and Pierce Brosnan's characters years before the original took place. We'll get to see the wild summer to led to Amanda Seyfried's character's birth, as well as getting to witness the Dynamos in their heyday (originally played by Streep, Christina Baranski and Julie Walters).
Some of the fresh faces will include Lily James as a young Donna, Jeremy Irvine as a young Bill, Hugh Skinner as a young Harry and Josh Dylan as a young Sam. The newest addition to this star-studded film is Cher, who will play Donna's mother in the flashback sections.
The sequel will feature new songs from ABBA, as well as a few reprises of old favorites. The first film grossed $609.8 million at the global box office.
It's safe to say fans are gearing up for another heart-warming sing-a-long. But until then, we've gathered all the behind the scene photos from the cast and crew's Instagram accounts.
Start warming up, and check out the photos below:
July 20, 2018 can't come fast enough!
(E! and NBC are both part of the NBCUniversal family.)