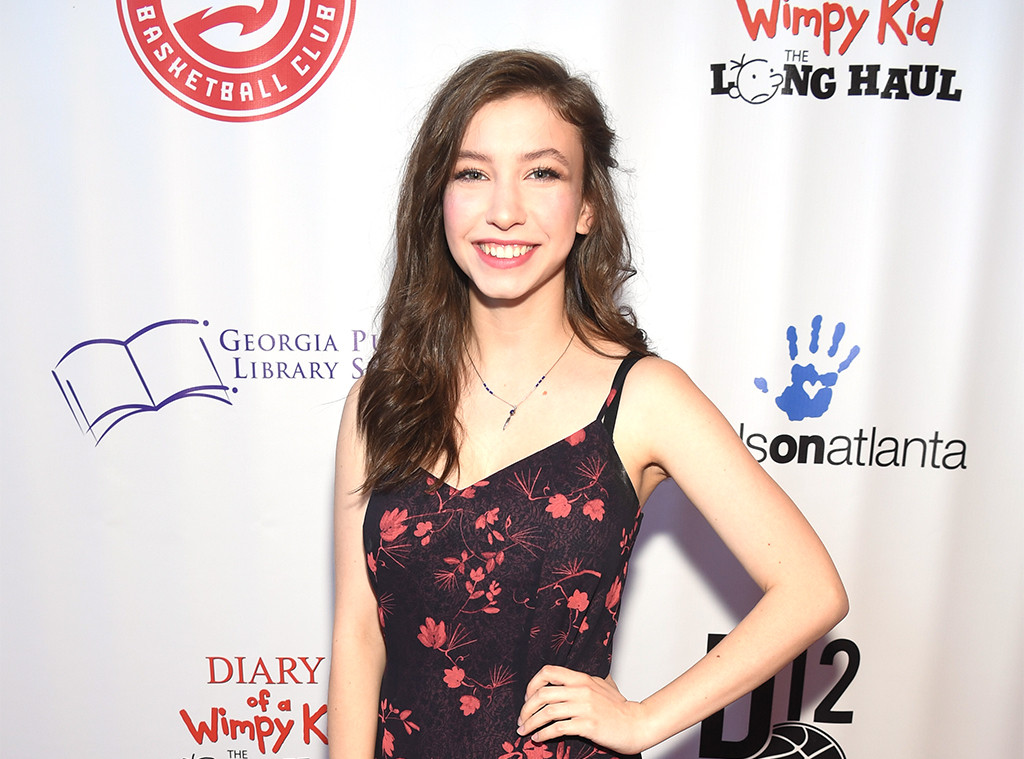 Paras Griffin/Getty Images for D12 Foundation
Katelyn Nacon is having the time of her life running for her life.
The 18-year-old actress joined The Walking Dead last season playing Enid, an intrepid (you kinda have to be) but wary survivor from the Alexandria Safe-Zone who is growing into a leadership role at The Hilltop along with Lauren Cohan's Maggie.
And with increased responsibilities on The Hilltop comes a promotion to series regular, which obviously has its perks.
"When I became a series regular I started getting sent a script for every episode of the season," Nacon tells E! News. "Before I would only get the scripts for the episodes I'm in."
So does that mean her loved ones are all over her like a swarm of walkers for spoilers?
"I don't think my family or friends care enough to ask for spoilers, none of them are really like that, which definitely makes my life easier," she says.
Asked what it was like to join a show with such a tight-knit cast, Nacon admits it was a little intimidating at first.
"I was extremely nervous!" she recalls. "It felt like it was the first day of school and I was the new kid...but everyone was just so unbelievably nice and made me feel welcomed right away."
Nacon's journey to The Walking Dead started early—ballet and musical theater as a little girl growing up in Georgia—and she's been all about acting ever since. Her first feature film role came in 2013 in an indie production called Loving Generously, and the following year she made her prime-time series debut in ABC's Resurrection and starred in the Adult Swim short Too Many Cooks.
With a war between TWD's scrappy reluctant heroes and the monstrous Negan and his army of followers on the horizon, Nacon told EW.com that, yes, the show will continue to be awfully sad, but a feeling of hope runs through her side of the aisle. "There's going to be war, but I feel like there's a lot more courage and a lot more hope that shows up in each character," she said. "They're wanting to win this. They're wanting to get over this, and I feel like each character is stronger in a way this season."
While all will be revealed soon enough (series creator Robert Kirkman insists he has an "end game"), Katelyn Nacon revealed a few things about herself when she took our E!Q. Get to know The Walking Dead's newest breakout star:
Hometown: Canton, Ga.
Age: 18
What time did you wake up this morning? As late as possible.
Night owl or early bird? Night owl all the way!
Who's the first person you talked to today? Isaac Condrey <3
What do you never leave the house without? My wallet.
Beach or mountains? Beach
Drive or fly? Fly
If you could go somewhere you've never been before tomorrow, where would you go: Australia.
Key item to have on hand for the zombie apocalypse: Lighter.
Last movie that really made you laugh: The Good Dinosaur. I love kid movies!
Celebrity crush: Tom Hanks.
First acting job: AT&T hot spot web commercial.
Name your favorite thing that starts with the letter E: Eyelashes.
Season 8 of The Walking Dead premieres Sunday, Oct. 22, at 9 p.m. on AMC.