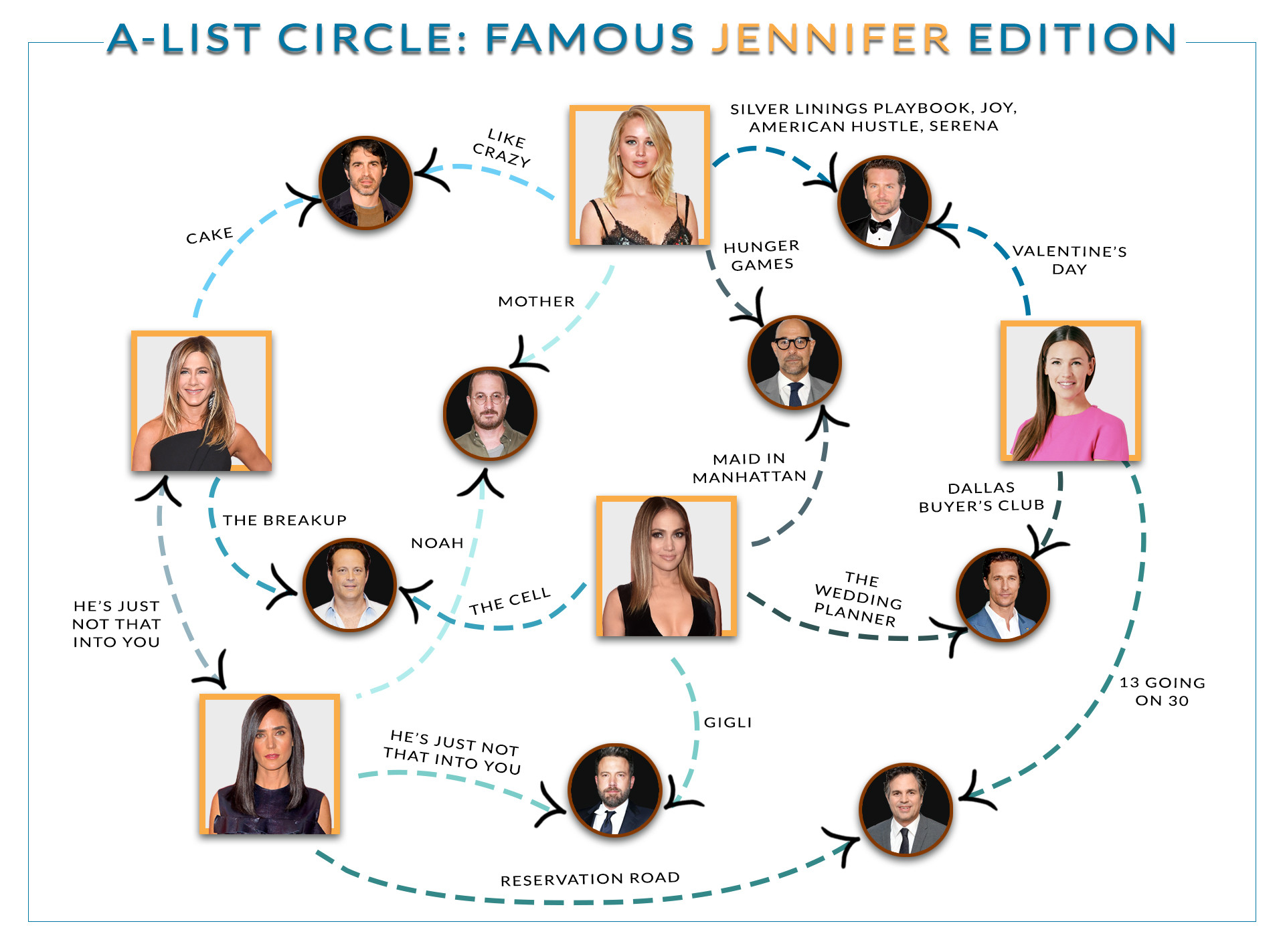 Getty Images; Melissa Hebeler/E! Illustration
Hollywood is a small town, but it just got even smaller. The A-list isn't a new concept in Tinseltown and it's no secret that there's a select group of people who can considered to be stars of the highest caliber. But what people might not realize is that the A-list is basically one exclusive club of interconnected actors and actresses—it's like that old game, Six Degrees of Kevin Bacon, only Kevin Bacon isn't actually invited this time because it's just that exclusive. 
After some very exhaustive research it's easy to come to the conclusion that, in fact, the group of actors at the top of their craft is so insular that they basically make up one big movie cast. It's no wonder that all of the biggest stars in Hollywood are such good friends, because they seem to spend all their time starring in movies with each other. See what will now be referred to as The Inner Circle for proof. 
Now here's another little secret: There are a lot of famous Jennifers. From Aniston and all her Friends to Lawrence and her Oscars to even Lopez who, may we not forget, once ruled the romantic comedy roost, these famous Jens have formed quite the A-list inner circle in the industry. 
There's the time Jennifer Aniston and Jennifer Connelly both starred in the ensemble comedy He's Just Not That Into You. She and Jennifer Lawrence have both starred in one of director Darren Aronofsky's movies—that would be Noah and mother! respectively. 
Jennifer Garner had a cameo in Mother's Day, which happened to star Jennifer Aniston. She was also in Valentine's Day with Bradley Cooper, who has been in approximately one million movies with Jennifer Lawrence. Lawrence is also connected to Jennifer Lopez through Stanley Tucci (thanks to Hunger Games and Maid in Manhattan) and Jennifer Aniston through Chris Messina (thanks to Like Crazy and Cake). 
That's just the beginning of Lopez's crazy connections. She starred in Gigli opposite Ben Affleck, who also happened to be in He's Just Not That Into You (with Connelly and Anison; keep up here!). She starred in The Wedding Planner opposite Matthew McConnaughey, who starred in Dallas Buyer's Club opposite Garner. And she even shares Vince Vaughn with Aniston courtesy of the timeless films The Cell and The Break-Up. 
Confused? Hollywood wants you to be; that's how they keep this crazy Jennifer conspiracy going. Luckily we went all Carrie Bradshaw so you don't have to. Just print out this handy map and start circling anytime you turn on your DVR.