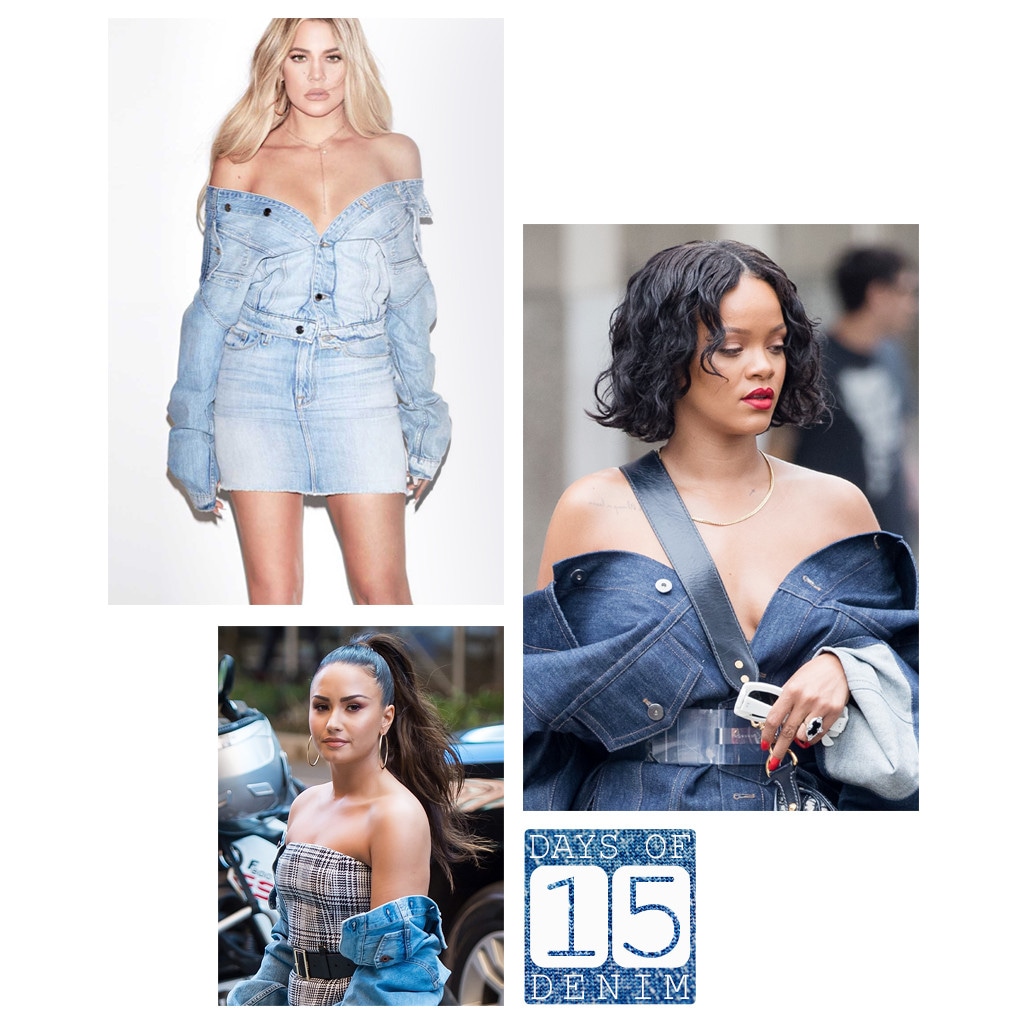 Jacqueline Lee / E!
As much as we love celebrity trends, we have to admit: Some of our favorite styles just aren't wearable.
Considering that oversized denim jackets are as practical and comfortable as they come, we really wanted to give the off-shoulder trend the benefit of the doubt. In her advertisement for Good American jeans, Khloe Kardashian's fresh look on double denim reveals how the new fit of the jacket adds a sultry note to an otherwise basic look. And, at the first glance, Rihanna looks comfortable, right?
We knew the trend was going to take hold because it really isn't a hard ask and it's very flattering. All you have to do is pull the jacket down so the collar sits at your mid-upper back and the sleeves start below your shoulders—that's it. The jean jacket will then become off-shoulder, creating a small V-neck at the bust and bringing attention to your décolletage. Its simplicity and impact on the outfit would make just about anyone adjust their denim. 
So, we gave it a go. I grabbed my Rainbow Destroyed Oversized Denim Jacket (sold for $34.99, a small investment for a fashion experiment), which I paired with a Good American mini skirt, denim belt and Baublebar earrings. Then, I asked our another E! editor, Taylor Stephan, who was wearing a monogrammed Levi's jean jacket and her Good American skirt, to join me for a style test and lunch. 
Within a few minutes of pulling down our jean jackets, we realized something crucial: For the rest of the day, we would only have about 50 percent of our wingspan to do just about everything. This was fine, until we tried to put our lunch together.
"Oh sh*t." You really don't realize how limiting not being able to raise your arms or open your chest is until you're in Taylor's position. Struggling to open the door and hold her tray, I was almost sure that her glass bottled Coca-Cola was going to shatter onto the concrete. To make it worse, (since we decided to embark on this mission in a corporate environment) I'm not sure that people around understood or empathized with our struggle. While they offered to help her, the slight smirk on their face said, "Why don't you just wear your jacket normally?" 
Well, kind coworkers, we didn't want to wear our jacket in an ordinary fashion. We were street stars for the day. Would I sacrifice putting plates in a cabinet to rock Rihanna-inspired fashion? Yes, so leave me be (but, please come help me). I mean, c'mon, at least we look cute, even in our biggest struggles.  
You know that feeling when your skirt is too short, and you have to pick a pen off the ground or whatever, so you hold onto the back of your skirt, bring your knees together and slowly drop down to the ground? (If you're more of a Legally Blonde bend-and-snap kind of girl, that's fine, too). Well, when you're wearing this trend, beware: Boob spillage is a real thing. When you bend over, the jacket naturally comes forward, and if you've got cleavage like Khloe or Rihanna, you better hold on. 
Did we feel cute? Yes. Were we comfortable? Not really. Was it worth it? Yes, but only after work hours when moving isn't really necessary. 
Watch:
How to Decorate Your Denim Like a Pro