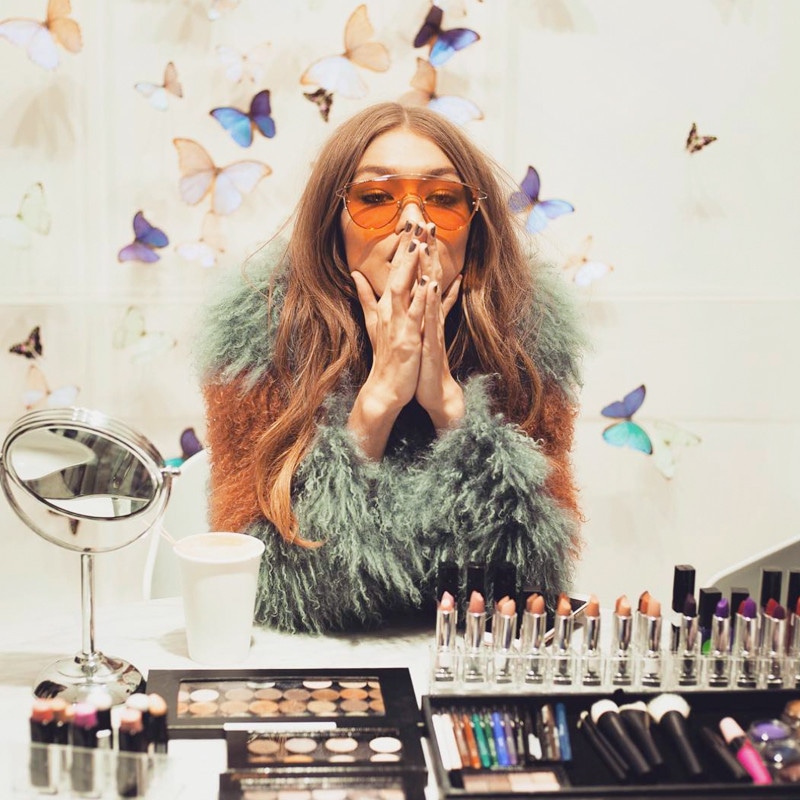 Instagram
To our heart's delight, Gigi Hadid has teamed with global makeup powerhouse Maybelline to offer you a new way to rock her style.
In an Instagram post, the supermodel revealed epic news to her 36 million followers: Over the course of a year, she has been creating a makeup line, and it's coming to a drugstore near you—get excited. 
Whether you're obsessed with beauty or more of an au naturel kind of girl, her photo reveal will make swoon. Wearing an orange and green faux shearling coat, paired with orange-tinted shades, the It Girl sits above a vanity filled with lipsticks, eye shadows and eyeliners that include muted hues, deep neutrals and bright colors. Between the color scheme (burnt oranges, purple, greens and blues) and the butterfly wallpaper, the collection is clearly inspired by the '70s, a decade marked by bold liner, voluminous hair and flesh-toned lips (think: Bianca Jagger, Grace Jones and Farrah Fawcett).
When we think about it, Gigi fits the mold of a Charlie's Angel in the '70s. She has a fearless, yet undoubtedly feminine demeanor, as seen in her boss-like thinking pose. Off-duty, she's commonly seen rocking jumpsuits with barely-there makeup—a look that is both effortless and relatable, despite her reign of the fashion world. And, she has a major role in the latest eyeliner trend, "thumbprint liner," which also takes us back in time. All in all, her style feels achievable, and now, it really is.
But, really, how do the products wear? No one knows so far. But Maybelline Global Makeup Artist Erin Parsons did recently post a photo of Gigi in the same muted, deep hues we described above. She captioned the photo: "#tb #bts." Was this look perhaps intended for the brand's future campaign ad? We hope so.