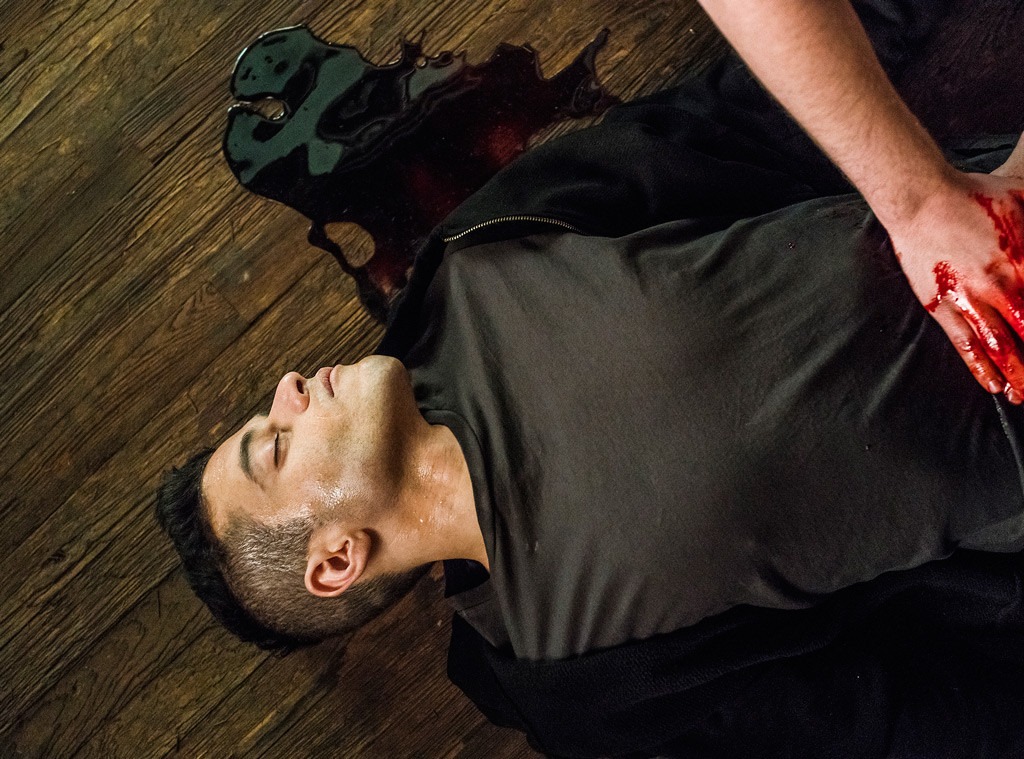 USA
Are you still there?
Those are the first words Elliot Alderson asks his audience when his narration returns in the season three premiere of Mr. Robot. And considering the last new episode of the his USA Network series aired over a year ago, it's a pretty appropriate question. When the series returns on Wednesday, Oct. 11, we'll finally get some answers as to how Elliot (Rami Malek) survived that gunshot wound, how Darlene (Carly Chaikin) will get out her jam with the FBI, and exactly what Angela's (Portia Doubleday) intentions are anymore. But if you're reading all that and wondering what the heck we're evening talking about, don't worry. You're not alone.
Ahead of tonight's premiere, we've got a primer on everything you need to know about the last two twisty seasons. Study up!
Where We've Been
When we first met Elliot way back in season one, he was a morphine-addicted loner working at cyber security company Allsafe alongside his best friend Angels by day, hacking the people in his life by night. As he helps his company protect their largest client, E Corp, from a hack, he's invited by the mysterious Mr. Robot (Christian Slater) to join fsociety, the very hacker group that's aiming to take E Corp down. Throughout the course of the first season, the major reveals keep coming. First, we learned that fellow fsociety member Darlene is actually Elliot's sister, whom he's forgotten about again. Oh, and Mr. Robot? He's their father. And he's also no longer alive. Rather, giving us shades of Fight Club, he's a persona that Elliot's taken on. The season ended with Elliot teaming up with disgraced E Corp CTO Tyrell Wellick (Martin Wallstrom) to successfully set fsociety's Five/Nine hack into motion, taking the company down and throwing the world into chaos, Angela accepting a job at E Corp (which, besides being a totally evil corporation, also had a hand in her mother's death), Tyrell going missing, and Elliot having no memory of three whole days.
Season two was a bit of a head-scratcher, as it opened one month later with Elliot living off the grid with his mother, maintaining a repetitive routine to keep Mr. Robot at bay, Darlene running the show over at fsociety and getting further entangled with the Dark Army (led by Whiterose a transgender woman played by B.D. Wong), Angela continuing to climb up the E Corp ladder, and Tyrell still missing. We met FBI agent Dominique DiPierro (Grace Gummer), who was investigating the Five/Nine hack and getting awfully close to learning the truth. About halfway through, we learned that Elliot was not living with his mother after all, but was instead in prison, arrested for hacking his therapist Krista's (Gloria Reuben) and stealing his dog. He's released early due to the Dark Army's influence, the FBI is hacked, Tyrell arrives to inform Elliot that Stage 2 is ready, and Angela prepares to confess to her part in the FBI hack.
Where We Left Off
Just as Angela was prepared to confess, she was apprehended by the Dark Army, where upon Whiterose enlists her to her mysterious cause, telling her that Angela's mother and Elliot's father (who both died of leukemia thanks to E Corp) died for the greater good. After the Dark Army attacked Darlene and her boyfriend, leaving her alive and him dead, she was interrogated by the FBI, where Dom revealed just how much the agency knew. (Spoiler: Everything.) Elliot struggled to comprehend whether Tyrell was real or simply another voice inside his head. As he tried to undo the firmware hack, realizing it would result in the loss of many lives, Tyrell shot him, proving he was really alive and in the room. The Dark Army connected a distraught Tyrell with Angela, who agreed to be there with Elliot when he woke up.
And in an intriguing post-credits scene, Trenton (Sunita Mani) and Mobley (Azar Khan), two fsociety members who got the heck out of NYC when the s--t hit the fan, were revealed to be hiding out on the West Coast under the assumed names Frederick and Tanya. As Trenton admits she's found something major that could potentially put everything back the way it was, they're approached by Leon (Joey Bada$$), Elliot's Dark Army protector. He asks them for the time, which, given Whiterose's obsession with the concept, just might've meant theirs had ran out.
Where do you think the show goes from there? And what are your theories about the thing that could put everything back the way it was? Share your thoughts with us in the comments below!
Mr. Robot returns for season three on Wednesday, Oct. 11 at 10 p.m. on USA.
(E! and USA are both part of the NBCUniversal family.)