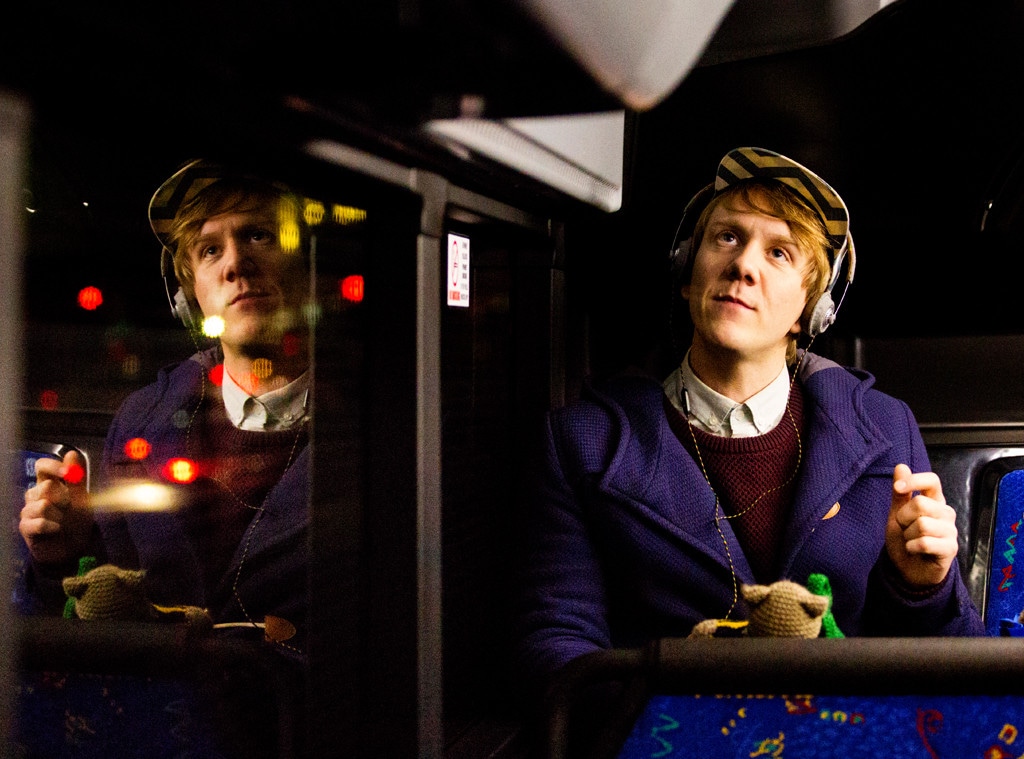 Hulu
Funny things happen when you're on vacation. Sometimes you find a scorpion in your Swiss Airbnb and promptly freak out because what's a scorpion doing in Switzerland (turns out some parts have them), and sometimes you discover a beautiful TV show that you are four seasons too late to and it's already aired its series finale. Both of those things happened to me this summer. The scorpion was handled and I fell in love with Please Like Me.
There's a lot of TV out there—peak TV even—and I'm here to say I'm sorry I'm late on Please Like Me.
Who's In It
Please Like Me stars Josh Thomas, Caitlin Stasey, Thomas Ward, Wade Briggs, David Roberts, Debra Lawrance, Renee Lim, Hannah Gadsby, Keegan Joyce, Emily Barclay and John the dog.
Why It Struck a Chord
What immediately jumped out about Please Like Me—besides the wit Josh Thomas, who created the series and wrote it with childhood best friend Thomas Ward and Liz Doran infused into the scripts—was just how human the show felt.
Josh, the character played by Josh Thomas, was gay. That's it, just gay. He hung out with straight people, went on dates, went out to bars, worked, saw his family—his homosexuality wasn't used as a driving force of the show. He was just a gay, normal man. It was a show, created by a gay man, about a gay man, but it wasn't Queer as Folk levels of sexual exploration. It was treated well and realistically by not really being treated.
Please Like Me tackled mental illness head on in both hilarious and heartbreaking ways (no spoilers). In a just world, Debra Lawrance would've gotten an Emmy for her work as Josh's bipolar mom Rose who, following her divorce, attempts suicide and then continues to struggle with depression and mania.
The series, which aired on Pivot (RIP? Remember Pivot? No? That's why it's not on the air anymore) and Hulu in the United States, is hard to describe to people. I've been singing its praises for the last few weeks to anybody I crossed paths with. I've said, "It's kind of like a Insecure, but with a gay 20something, but not" but that doesn't nail any of the show's complexity, its humor or its deft ability to blur the lines between laughs and heartache.
I got deeply invested in everything, from why Caitlin Stasey's Claire disappeared (the actress got work in the States) to when Keegan Joyce showed back up as Arnold with a stylish new haircut. After I convinced friends to watch (just two so far, but I'm coming for the rest of you), I inquired which love interest of Josh's they declared allegiance to. Oddly enough I'm Team Geoffrey (Wade Briggs), he was changing you guys!
I miss everything about Please Like Me right now. It's almost an aching pain. I miss my TV friends. I miss Renee Lim stealing every damn scene as Mae, Josh's dad's girlfriend. I miss Arnold's take on pop hits. I miss Hannah (Hannah Gadsby) just in general. Why the aching feeling? Because watching this show feels like watching real people, you can easily get invested in Josh and the people around him and that's a testament to the writing. It's rather real and messy—and funny.
Watching Please Like Me was—dare I say it—life changing. This show will stick with you in the best way possible, and make you think about and appreciate your loved ones in new light. Love yourself for who you are and love others for who they are. You will be better, probably more open-minded when it comes to things like sexuality and mental health, after watching Please Like Me. It's special and deserves to be seen.
All four seasons are on Hulu now.