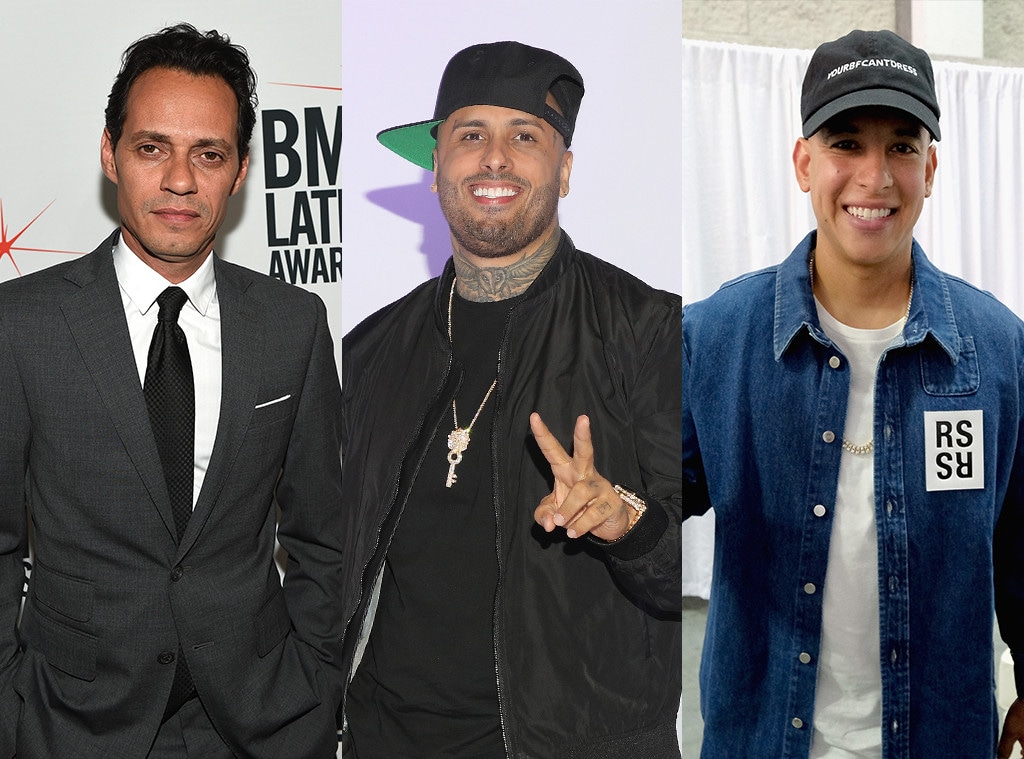 Getty Images
Hurricane Maria has been the most powerful storm to hit Puerto Rico in almost a century. Now the island is left to assess the damage and officials say it could take half a year to restore power to all its 3.5 residents, according to NBC News.
The monster hurricane ripped roofs off buildings and flooded homes, and intense flooding was reported across the island. Many streets near the capital are left looking like rivers. 
Stars like Marc Anthony are using their star power to collect funds for the victims of this catastrophic disaster and repair the beloved island.
"During these past weeks, my island has faced the wrath of two historic hurricanes. It was Hurricane Irma and now Hurricane Maria as we all know, which has caused great devastation in Puerto Rico and the broader Caribbean. None the less, Puerto Rico became a haven for those in need from our neighboring islands, that says a lot about us, " the 49-year-old singer explains. "But today, Puerto Rico needs your help, and I'm calling on everyone to support and donate to the disaster relief effort of the First Lady of Puerto Rico Beatriz Rosselló. United for Puerto Rico. Together we can change trajectories. UnitedForPuertoRico.com"

At around the same time, Daddy Yankee went on Live on Facebook and partnered with Feeding America. Fans can donate by just clicking the donate button embedded within the video's caption. 
"We're conscious of the situation that's happening, and I'm worried about my family because I haven't had the opportunity to speak to them. We're all very worried. Not only for my family but also for my friends," he says as holds back tears. "It's very intense to be in the middle of a tour, and your heart is with your island At the same time, you have to work because work never stops, but you have to help your people." 
The singer explained that he and his team are deeply affected by what's going on in their island.
Nicky Jam is another musical star that is reaching out to his millions of fans via social media. 
"I have my two daughters over there and my father and my grandmother. Almost all of them live near the beach. I haven't been able to have any communication with any of them, and the airports are destroyed," the 36-year-old says in the heartfelt video. "I'm going to do a concert so that all that all of the proceeds go to help Puerto Rico." 
The xXx star said he's going to be joining forces with organizations to ensure that help arrives in Puerto Rico. 
"I'm going to do all that's in my hands to help Puerto Rico so that Puerto Rico can get back on its feet again," he promises. 
Jam also asked that if anyone knows how his family is, to please let him know that they're safe.