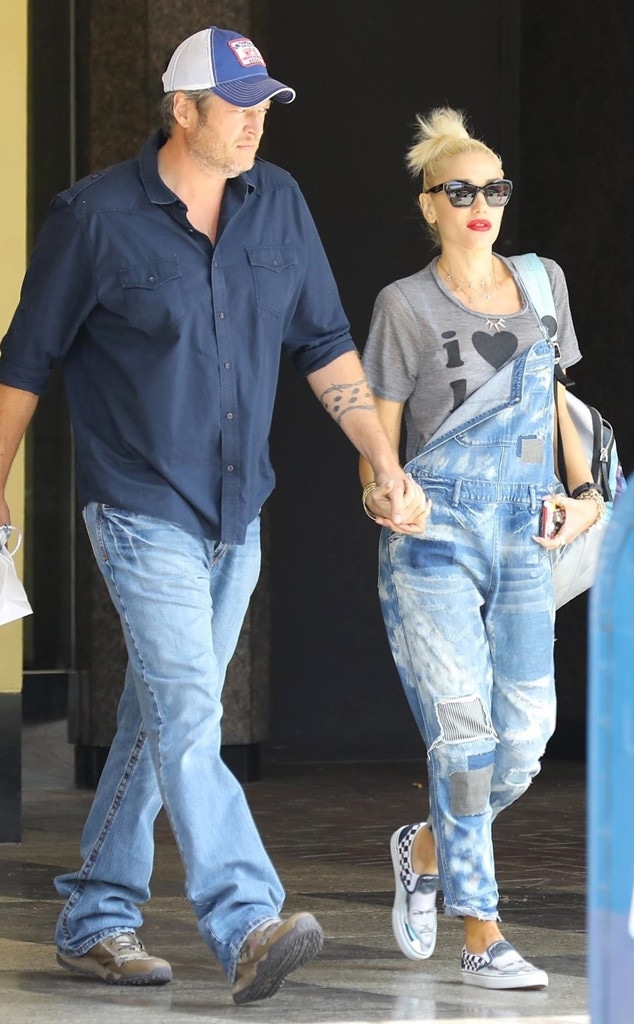 BACKGRID
Gwen Stefani would never walk all over Blake Shelton—unless we're talking fashion.
As the couple stepped out in Beverly Hills today, some fans couldn't help but check out the pair's relaxed outfits.
And for those really checking these two out, they may have spotted Gwen's shoes featuring a familiar guy.
To complete her overalls look, the "Hollaback Girl" singer decided to rock a custom pair of Vans sneakers that featured none other than Blake's face.
And guess what? She's worn these before from the set of The Voice.
While some may just see it as another pair of shoes, many fans of the couple remain quite fascinated with anything these two do. And while they may have started dating in November 2015, Blake tries not to be bothered by all the attention that surrounds his latest relationship.
"I think we don't pay as much attention anymore. We're numb to it," he previously shared with Today's Carson Daly. "Any time you see a story about us, it's either that it's a fake relationship or that we're already married. Or we're gonna get married, or she's on her second set of twins."
Blake continued, "In people's defense, I think it's so hard for people to wrap their head around why Gwen would want to be with me. I don't blame 'em."
Oh Blake, you know Gwen has a cute answer for that.
"I love Blake!" she explained on Late Night With Seth Meyers. "He is the most incredible guy. Everybody loves Blake, and that's the thing. There's no way around it. He's just a sparkly like happy, amazing person."
With that in mind, no wonder why she wears the cool shoes.