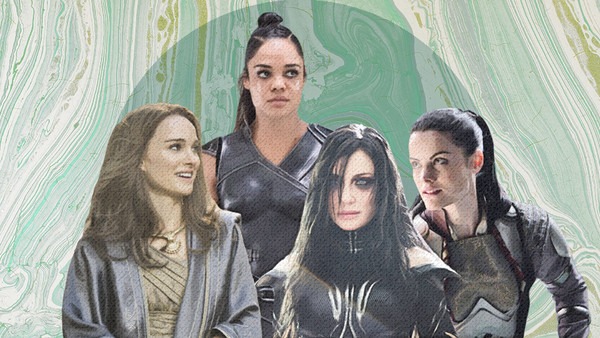 Have you ever been scared of Cate Blanchett? Well, prepare for the world as you know it to change.
The veteran actress is hitting the big screen this November for the latest installment of Marvel's Thor franchise and she's taking a slew of badass women in tow—including Westworld's Tessa Thompson. As the Oscar winner's first foray into the superhero world it's only natural that she does a little bit of history-making.
"I didn't realize until Marvel told me that I was inhabiting the first female villain onscreen," she told E! News at this summer's Comic-Con. "I thought, surely not. But it's true. There have been many, many in the comic books but they've been a bit tardy it bringing it to the screen. Hopefully now there will be a lot more villainnesses."
Blanchett plays Thor: Ragnarok's Big Bad, a character named Hela who is otherwise known as the Goddess of Death. She's technically the child of a different incarnation of Loki (the character made famous by Tom Hiddleston), but what's truly important to know is that she's trying to take down Chris Hemsworth and all his friends. To do so she inhabits a costume that can best be described as Maleficent on crack, and, as is often the case in superhero movies, it was an endeavor that proved to be one of the trickier parts of the role.
"Half of my costume is done in post so a lot of the time I was trying to look fierce and bad in a motion-capture suit," she explained. "Which is hard. It's a lot of polyester to wear in Queensland."
Fighting against Hela is an Avenger named Valkyrie, who is portrayed by Thompson—besides the HBO hit, she was also seen in the smash hit Creed. (So yes, she is no stranger to action roles). During an E! News visit to the set of Ragnarok, the actress described her character as a "fierce warrior who causes intergalactic mischief," who also happens to be rather reluctant to join forces with Thor.
It may be intimidating for some to go toe-to-toe with Chris Hemsworth, one of the most jacked actors in Hollywood, but Thompson reveled in the challenge.
"Chris and I are always in competition," she said. "He has a set of dumbbells in his trailer so now I have a set, too."
Thompson also gave a shoutout to her fellow lady fighter Cate Blanchett, saying that even though Chris may be muscular, that isn't everything.
"The female leads, myself and Cate, give him a run for her money," said Thompson. "There's a strong feminist theme in this movie where even the toughest guys get a run for their money."
Blanchett echoed those sentiments, reveling in the chance to stick it to the typically male-dominated genre.
"They had me at hello," she exclaimed. "I thought it was really exciting that they were ready to destroy Thor's power in the first few minutes of the movie."
Thor: Ragnarok hits theaters November 3.