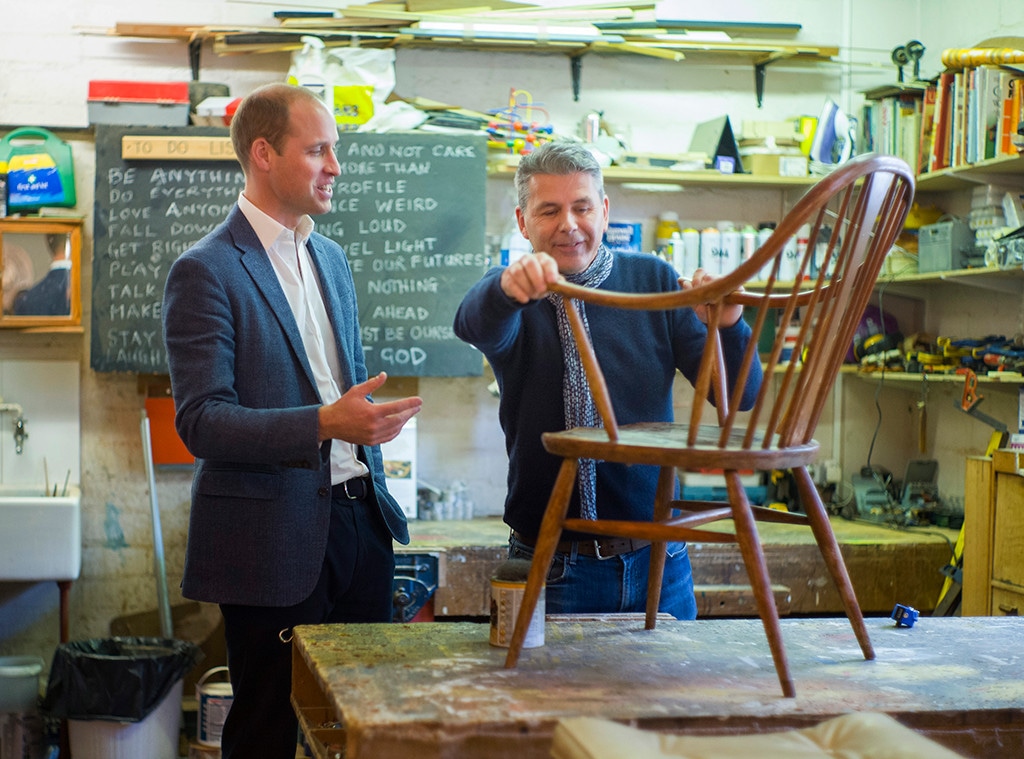 David Rose - WPA Pool / Getty Images
Prince William managed to keep things light after having a deep discussion about drug addiction and legalization.
During his visit to the Spitafields Crypt Trust—a charity that provides services for those suffering from alcohol and drug addiction—the Duke of Cambridge spoke with three people recovering from addiction. One of these people, Grace Gunn, just so happened to be training to become a midwife. After visiting with the group, William wished Gunn, 19, luck with her training.
"All the best with the midwifery. Might see you sooner than you think," he quipped.
The Prince was also given three wooden owls: one for Prince George, one for Princess Charlotte and one for the upcoming bundle of joy he is expecting to welcome with his wife Kate Middleton in the spring.
Besides sharing some baby news, William asked the group a "massive question" about their thoughts on legalizing drugs. 
"Can I ask you a very massive question—it's a big one," William said. "There's obviously a lot of pressure growing in areas about legalizing drugs and things like that. What are your individual opinions on that?"
"I know it's a big question," he continued. "but you seem like the key people to actually get a very good idea as to, you know, what are the big dangers there—what are the feelings?"
David Rose - WPA Pool / Getty Images
Heather Blackburn, 49, said she thought the legalization of drugs was a "good idea," and that money was wasted on "drug laws."
"Most of the people I've known in recovery, 95%, had massive trauma and terrible stuff happen to them and using drugs to cope," she said. "And then you get put in prison. You don't get the facilities and the actual help you need, you get punished."
This pattern was "not going to help anyone taking drugs," she continued. Instead, she said it was "going to even do more harm, I think."
"So there needs to be more of a social element to it?" William questioned. 
Blackburn said having more support—like psychiatrists—could be beneficial in terms of helping people change their lives sooner.
"So prison doesn't tackle the root cause of why someone is taking drugs?" he asked.
"No," Blackburn replied. "It just punishes what you've done, not the reasons why."
Gunn also shared her thoughts on the matter.
"There are still drugs in prison," she said. "You can't eliminate that fact that people do get drugs into prison."
 She continued to share her views with the royal and the group.
"But I'm a true believer [that] people who end up in these places, we're damaged people, whether that's through trauma or our relationship with parents or family or carer. And, I think one thing to start the process [is] there has to be money in mental health therapy."
Gunn even shared a bit of her own experience.
"You can't have two-year waiting lists for trauma therapy," she said. "I've been waiting five years."
Still, for Gunn, the issue isn't clear cut. 
"You can't just say, you know, 'Drugs are illegal' or 'Now we can all go and do drugs,'" she said, "because it doesn't stop the fact we're a nation of people hurting, and we can't undo all that overnight. It takes a long period of time."
The Duke of Cambridge thanked the group for sharing their opinions and said the conversation was "a very useful little snapshot." 
"You guys have seen it, and it's affected your lives in ways I can only imagine," he said. "So, it's very interesting to hear that from you." 
"Talking to you and being here it feels like a question I had to ask," he continued. "I appreciate your honesty." 
The Prince's discussion comes after much debate around the legalization of cannabis.