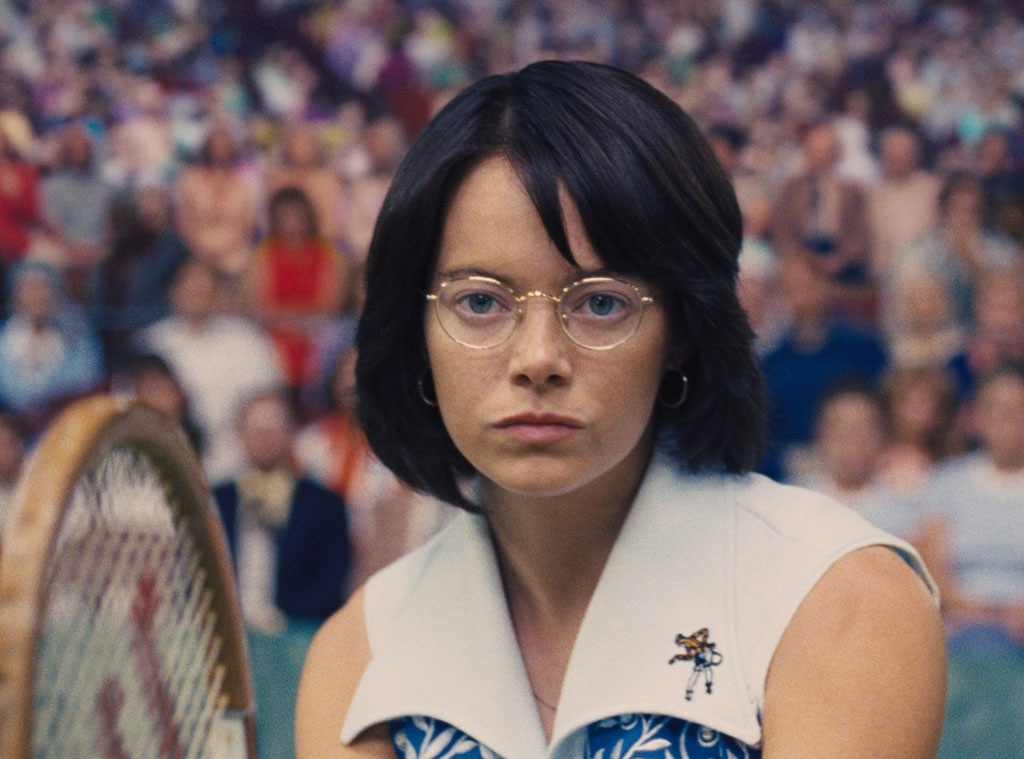 Battle of the Sexes is a tennis movie, sure, but it's also so much more than a tennis movie.
The flick centers around the marquee matchup between Billie Jean King, a onetime world number one player, and Bobby Riggs, an infamously chauvinist tennis champion—Riggs had taunted all female players, convinced no one could beat him, and King took him up on his challenge.
The resulting face-off propelled the feminist movement forward and further solidified King as an athlete at the front of the fight. Emma Stone plays the tennis legend in a role that's already getting Oscar buzz (despite the fact that it doesn't hit theaters until Friday). But before all the praise could roll in, she had to prepare for a gig that would require light years more physicality than anything she'd done before.
That technically started in the gym. Emma Stone is no slouch, but the actress also wasn't in the same shape as a world champion tennis player (is anyone in Hollywood?). Months before she arrived on set, Stone worked out nearly nonstop with trainer Jason Walsh, owner of Rise Nation and the man responsible for keeping the likes of Hilary Duff and Milo Ventimiglia in peak form.
She gained 15 pounds of muscle thanks to a regimen that included two-a-day gym sessions, lifting (very large) weights and downing tons of protein drinks. Walsh told E! News that they created that system out of a necessity to get every part of the role right, even down to the muscle mass.
"Emma took it very seriously," he said. "This is somebody's story that she's taken on. She wanted to make sure she could do everything possible to portray Billie Jean King the right way.
And as taxing as that sounds, she really reaped the benefits.
"I loved it," Stone told E! News of the weight gain. "It was wonderful. What I wouldn't give to have those shoulders back."
Filming Battle of the Sexes was also an emotionally transformative process for Stone. At the root of all those awe-inspiring action shots and killer forehands was the story of a woman who dared to confront the establishment. Most people who didn't actually grow up in the 1970s have barely heard of the showdown before the trailer hit the Internet, and Emma was one of them.
"I didn't know this story at all," she said. "I was so fortunate during filming to learn all the details about this incredible woman. I was watching footage from the time, reading all the interviews, talking to her about how she was feeling in that time period. It was just amazing and so inspiring."
Stone did some inspiring of her own—so say her many famous costars on Battle of the Sexes. Sarah Silverman, who plays Gladys Heldman, the founder of World Tennis magazine and one of King's staunchest supporters, told E! News that "All my scenes were with Emma, who is just a human light force."
Steve Carell, who bravely took on the not-so-appetizing role of Bobby Riggs, was delighted to be reunited with his Crazy, Stupid Love costar.
"I was really excited to work with her again," he said. "She's the best, she's exactly who you would think she is. She's very special." And even though Carell went through his own training to prepare for their big tennis face-off, he admits that Emma would totally beat him on the court in real life, too.
Of course, no movie can be all rainbows and sunshine and having a blast playing tennis. There was one part of the film that Stone could certainly do without: The polyester.
"It's just a lot of sweat and stuff," she said of the costumes. "It's just a lot of smells you've never smelled before, until you've worn 1970s garb."