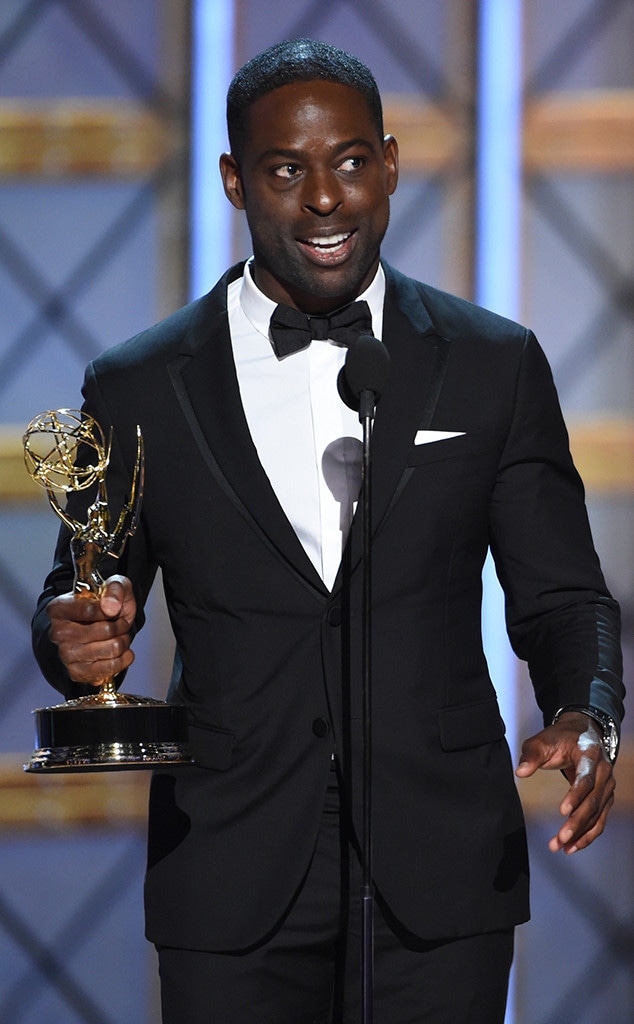 Phil McCarten/Invision for the Television Academy/AP Images
It looks like that extra-long Nicole Kidman acceptance speech didn't leave much room for anyone else to say what they need to say at the 69th Annual Primetime Emmy Awards
At least, that's what we're blaming on whatever the hell happened when Sterling K. Brown stepped to the mic to accept his much-deserved award for Outstanding Lead Actor in a Drama for his work in This Is Us when, after not much time at all, the orchestra began to play him off. Loudly.
"Before anything like this happened for your boy, I was a fan. First last and always, a fan. So my fellow nominees, I'm a fan. I love you all," he began with the eloquence we've come to expect from a Sterling K. Brown acceptance speech. "This one right here, like this one right here, when I think about it, like Walter White held this joint? Dick Whitman held this joint? I may have lost some of y'all, but you know, Google it. And 19 years ago, Detective Frank Pimbleton held this joint as impeccibly played by Andre Braugher."
"I want to thank my cast. Milo, Mandy, Justin, Kate, you are the best white TV family that a brother has ever had. Better than Mr. Drummond, better than then white folks at Webster. I love you," he continued, turning his attention to the This Is Us cast. "Susan Kelechi Watson, it is my pleasure to rep black love with you, sister. Let's keep doing it like Martin and Gina. Ron Cephas Jones, you just have to show up and the work is already there brother."
But it was when he began thanking the folks who work BTS to make the NBC his happen that things took a turn. "Our writers, you are our lifeblood," before loud orchestral music began trying to play him off. It didn't work exactly as they'd hoped. "You can play, you can play. Nobody got that loud music. Writers, I love you. You are our lifesblood. Our producers and directors, I love you. I'm good." By the end, he was standing in darkness on the stage, with the audience applauding him loudly in solidarity.
How you gonna play an Emmy winner like that, Academy? 
(Note: Brown did get to finish his speech backstage while speaking to press, and was able to thank writers, producers, and creator Dan Fogelman.)
Brown beat out some pretty stiff competition for his honor, including Bob Odenkirk (Better Call Saul), Kevin Spacey (House of Cards), Liev Schrieber (Ray Donovan), Matthew Rhys (The Americans), Anthony Hopkins (Westworld), and his on-screen dad Milo Ventimiglia.
Were you surprised by how Brown was played off? Sound off in the comments below!