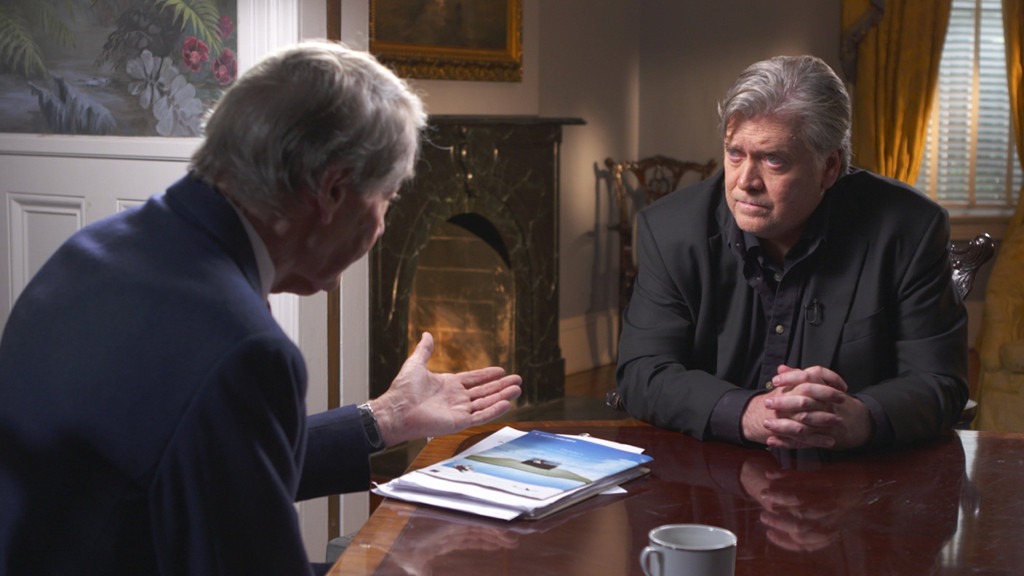 CBS News
Former White House chief strategist Steve Bannon said Sunday he doesn't care that Saturday Night Live portrays him as the Grim Reaper (opposite Alec Baldwin's President Donald Trump).
In an interview with Charlie Rose for CBS' 60 Minutes, Bannon insisted he wasn't bothered by Mikey Day's portrayal of him on the NBC sketch series. "I don't need the affirmation of the mainstream media. I don't care what they say. They can call me an anti-Semite. They can call me racist. They call me nativist. You can call me anything you want. OK?" Bannon, 63, said. "As long as we're driving this agenda for the working men and women of this country, I am happy."
Bannon left the White House last month and returned to Breitbart News.
He remains one of Trump's most outspoken supporters, as well as a fellow critic of the media.
"I don't think he needs The Washington Post, and The New York Times and CBS News. And I don't believe he thinks that they're looking out what's in his best interest, OK? He's not going to believe that, I don't believe that, and you don't believe that, OK?" Bannon said. "This is another just standard in judgment that you rain upon him in the effort to destroy Donald Trump. He knows he's speaking directly to the people who put him in office when he uses Twitter. And it sometimes is not in the custom and tradition of what the opposition party deems appropriate."
"I think what he does on Twitter is extraordinary. He dis-intermediates the media. He goes above their head and talks directly to the American people. It's what he says," he said. "No, it's what he says that the mainstream media, the pearl-clutching mainstream media—the pearl-clutching mainstream media!—what they deem is not correct, what they deem is not right."
Bannon, of course, is not the only political figure who was mocked in SNL's 42nd season. Jason Sudeikis reprised his role as Mitt Romney, while Melissa McCarthy made headlines for her take on Sean Spicer. And Kate McKinnon proved she can do no wrong, impersonating Ruth Bader Ginsburg, Hillary Clinton, Kellyanne Conway, Betsy DeVos, Jeff Sessions and Elizabeth Warren.
"I think Melissa McCarthy needs to slow down on the gum chewing," Spicer told Extra in February. "Way too many pieces in there." As for Baldwin's portrayal of Trump, the former White House Press Secretary argued, "He's gone from funny to mean, and that's unfortunate."
Saturday Night Live returns Sept. 30 with host Ryan Gosling and musical guest Jay-Z.
(E! and NBC are both members of the NBCUniversal family.)