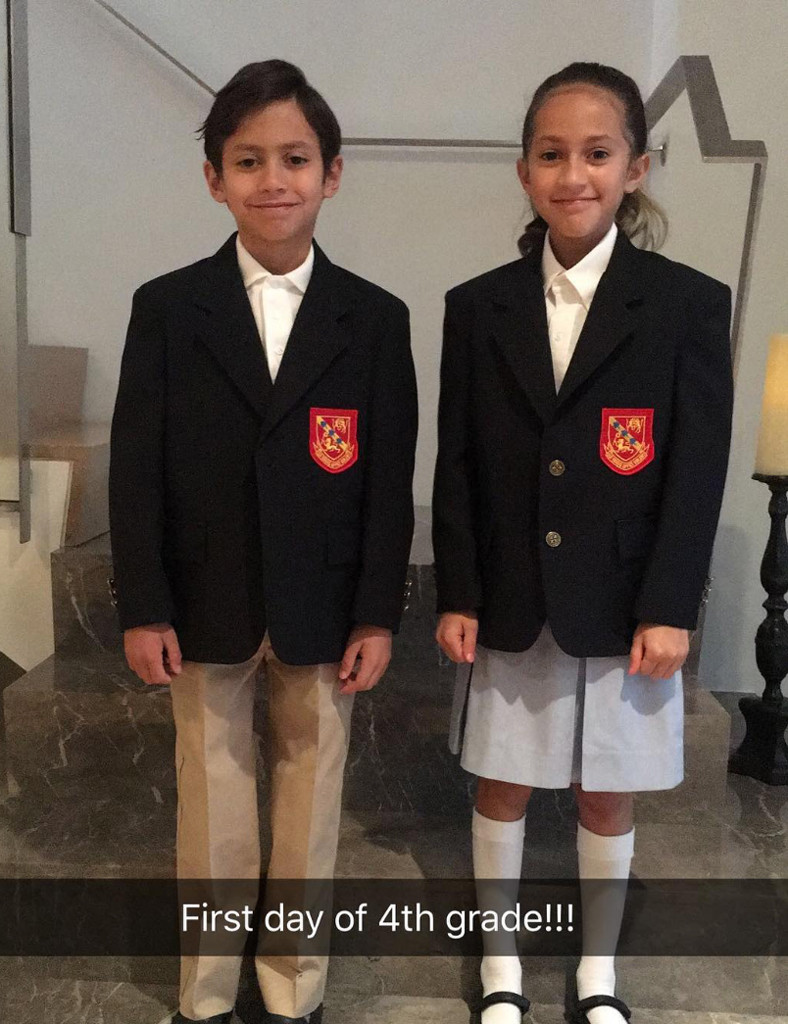 Instagram
And just like that, they're off to fourth grade! 
Proud mama Jennifer Lopez shared a photo on Instagram of her twins on their first day of school. 
"So proud of my babies... #notbabiesanymore #4thgrade #love," the "Ni Tú Ni Yo" singer captioned the post of nine-year-old Emme and Max. 
The siblings rocked matching school blazers as they smiled at the camera. 
The twins had a fantastic summer break with lots of trips and family time along with Alex Rodriguez and his two daughters Natasha, 12, and Ella, 9. 
In July, the Shades of Blue star took to her Instagram to post the heartwarming photo of the five. The group appears to be lounging by a pool, and J.Lo's son Max looks like he's as comfy as could be with his mom's new beau.
The "Ain't Yo' Mama" singer captioned the photo, "This…" and also included heart emojis. 
Despite busy schedules, the pair has been inseparable all summer and have apparently made getting to know each others' families a priority. The former Yankee's two daughters were all over the Bronx-born singer's Instagram recently. Similarly, A-Rod's Insta has been chock full of photos of Lopez's twins, who appear to get along swimmingly with his girls.
In July, A-Rod threw J.Lo a surprise birthday party in Miami. J.Lo showed up looking gorgeous in a black, semi-sheer cut-out Bao Tranchi mini dress. The two partied with family members, their children and about 50 friends, including J.Lo's backup dancers and co-stars from Shades of Blue.
Just last month, Lopez's headed to Citi Field with her 9-year-old twins and Alex's daughters. The triple threat dubbed the occasion "family day" as she videotaped the gathering and shared it on social media. 
"So, here we are at Citi Field. We're having a family day with all the kiddies and grandma," Lopez said in a video posted to her Instagram story.
Of course, Lopez's mom, Guadalupe Rodríguez, was along for the family outing. Meanwhile, J.Lo's famous boyfriend had to miss out on the family fun as he was busy working covering the game for Fox Sports. 
Although all this summer fun has come to an end, we're sure the twins are excited to get back to school and catch up with their classmates.