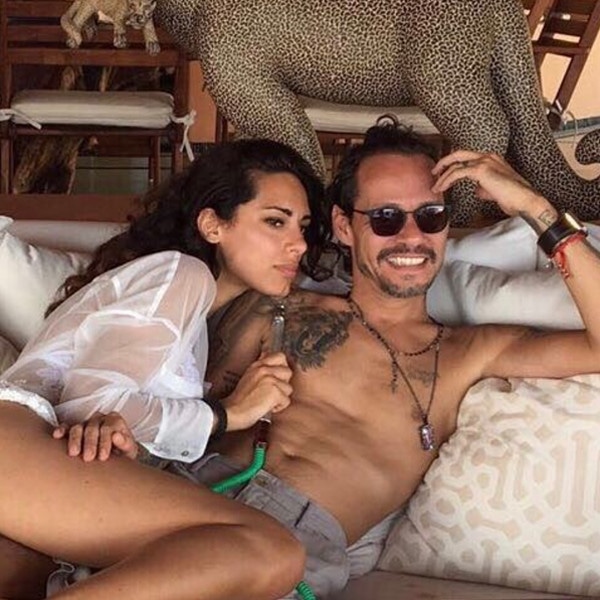 Instagram
Claws up, Marc Anthony!
The singer's girlfriend Raffaella Modugno showed us Anthony's playful side as she shared a video on her Instagram account where we see the 48-year-old singer play along with different animals using a filter. "Relaxing Monday with my baby....," she captioned the video including multiple heart emojis and even hashtagged the word love. 
And relaxing they are, because from the looks of it, the couple seems to be enjoying the day on a yacht in Miami. 
These two sparked romance rumors back in May when Anthony publicly shared a photo with Modugno. In the picture, we see them together, and the 29-year-old's legs are on the star. He captioned it by writing, "Making memories. Happy Memorial Day weekend. Wishing you the best." 
The status of these two remained unknown and it was Modugno herself that confirmed their relationship in July. 
"Yes, we are a couple," she said to Italian magazine Oggi when asked about her relationship with Anthony. "Our relationship is new, so we are getting to know each other."
Anthony's love life was a giant mystery to us back in May, like seriously—a lot was going on.
That month, we learned that the singer was no longer with 21-year-old model Mariana Downing and was now finding love with Modugno. But then photos surfaced of the "Felices Los 4" singer and his ex-wife Shannon de Lima out on a yacht, and that sent people into a tizzy. Telemundo reported that the photos weren't taken during Memorial Day weekend (which is when they surfaced) but instead were snapped a month before. 
It seems de Lima and Anthony are just good friends, even after a divorce which is almost impossible for many. It also helps that the Venezuelan model has also moved on since their separation in November 2016 and she's now dating Mexican boxer Canelo Álvarez. 
Cheers to love, right?