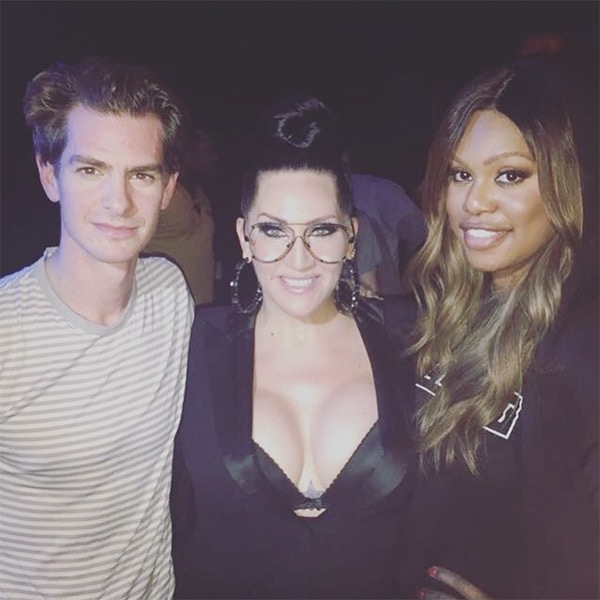 Instagram
Andrew Garfield, the time has come for you to lip-sync...for your life!
The drag show revue Werq the World Tour stopped in London Tuesday, and Garfield just so happened to be in the audience. The Academy Award-nominated Hacksaw Ridge actor, 33, surprised fans by wearing a curly wig and lip-syncing to Whitney Houston's "I'm Every Woman."
Garfield attended Tuesday's drag show with Nathan Stewart-Jarrett and Russell Tovey, his co-stars in the London revival of the play Angels in America (now playing at the National Theatre).
The actor, whose impromptu performance occurred during the "Wig in a Box" segment, back-flipped and vogued as the audience went wild. "Oh my, God!" host Michelle Visage marveled. The event, staged at Troxy, featured current and former competitors on Logo's RuPaul's Drag Race, including Violet Chachki, Kim Chi, Shea Coulee, Detox, Shangela and Sasha Velor. The pre-show, meanwhile, featured local queens Joe Black, Jodie Harsh, Lydia L'Scabies and Meth.
Visage posed for a photo with Garfield and actress Laverne Cox after the show and shared it on Instagram. "What a show, what a night! Thank you as always. YOU ARE MY HEART AND SOUL. Andrew Garfield, you are my new friend," she wrote. "I am SO proud of you for not just lip syncing Whitney tonight in a wig no less, but for opening your mind and heart to all it has to offer." As for the Orange Is the New Black star, Visage wrote, "You keep doing what you're doing...you are a trailblazer, a beauty and a [diamond]. I LOVE YOU #werqtheworld #tour."
Now all Garfield needs is a drag mother and a stage name.